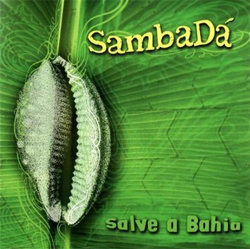 California's own Brazilian sensation, SambaDá, is set to release its new CD, Salve A Bahia , due in stores October 9th, with a record release party on October 13th, at Sounds Of Brazil in New York City. SambaDá is one of the hottest emerging groups on the West Coast music scene; with its mixture of hard-hitting Brazilian grooves, mesmerizing visuals and stunning capoeira demonstrations, the 7-piece collective has captivated audiences up and down the West Coast. This year, SambaDá headlined the 3 most important Carnival festivals in California, in San Francisco, San Diego and Los Angeles.
On October October 9th, SambaDá is preparing the leap to the next level with the release of Salve A Bahia, produced by 3-time Grammy nominated producer Greg Landau, who has worked with artists including Susana Baca, Patato Valdes, Maldita Vecindad and the Buena Vista Social Club. SambaDá remains rooted in Afro-Brazilian culture with capoeira master, Papida Godinho, and virtuoso percussionist and samba dancer, Dandha Da Hora, a long time performer with the famed Brazilian Carnival group, Ilê Aiyê. The group's other members, however, hail from Santa Cruz, CA, and bring a fusion of North American sounds to the mix, creating a brew of samba, capoeira music, funk, reggae and hip hop that have California music fans buzzing.
The release of Salve A Bahia and SambaDá's first trip to the East Coast marks a milestone not only for their career, but also for Brazilian music in the United States. New York music lovers and Braziliphiles have something special in store when Salve A Bahia hits shelves on October 9th, and SambaDá hits the stage at Sounds of Brazil on October 13th.
Buy
Author:
World Music Central News Department
World music news from the editors at World Music Central