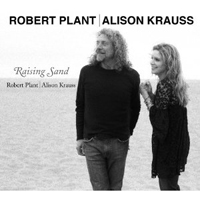 Robert Plant and Alison Krauss
Raising Sand (Rounder Records, 2007)
If someone were to mention Robert Plant of Led Zeppelin and Strange Sensation fame I wouldn't automatically take the mental leap and connect him to contemporary bluegrass icon and 20 Grammy Award winner Alison Krauss. I'm just not that smart. So I guess it's a good thing that songwriter and producer extraordinaire T Bone Burnett , the force behind films "O Brother, Where Art Thou?," "Walk the Line" and "Cold Mountain," as well as founder of DMZ Records, imagined the magical possibilities in melding the artistic talents of Plant and Krauss.
Raising Sand , the triumphal result of this musical leap, set to be released October 23, 2007, is beguiling and astonishing. Frankly, there just aren't any superlatives that would do it justice. It's just that good.
Billed as defying-genre cross pollination of "early urban blues, spacious West Texas country and the unrealized potential of the folk-rock revolution," Raising Sand goes beyond any real category. With elemental flashes of rock, folk, country and bluegrass, not to mention ingenious threads of rockabilly sewn throughout, the combination works as an almost independent genre; bending in one direction on a phrase and swaying in another direction on the next phrase. The synthesized sound is mysterious and comforting at the same time.
Opening track "Rich Woman" is the listener's first meeting at the crossroads with Plant and Krauss and it's shockingly delicious. Alison Krauss's sweet, sweet voice entwines effortlessly with the subdued vocals of the venerated Robert Plant. You can't get over the harmonies of a combined Plant and Krauss before the CD moves into the dreamy duet "Killing the Blues," that sounds like a combination of a barstool sad song and a country lullaby, complete with a weepy violin threaded throughout.
Krauss's take on "Sister Rosetta Goes Before Us" by Sam Philips is equally surprising with a gypsy banjo and violin treatment against Krauss's charming vocals. Plant opens the musical space with a rendition of Gene Vincent's "Polly Come Home." The combination of big sky guitar sound and Plant's signature vocals offer a guileless simplicity to the piece, but it's Krauss's background vocals that give it that hauntingly lovely tinge. If you are seeking artful grace, none can be better than the out of the mist vocals by Krauss on "Trampled Rose." Framed by banjo and guitar, Krauss soars over the landscape.
Duet "Gone Gone Gone (Done Moved On)" is where Plant and Krauss meet up with driving rockabilly and guitar swank for a swinging romp. Matching Krauss on her freewheeling "Let Your Loss Be Your Lesson," Plant takes on Benny Spellman's "Fortune Teller," letting loose with his edgy rock vocals against some hard driving guitar and Krauss's backdrop vocals.
Raising Sand is truly evocative. The sound Plant, Krauss and Burnett invented is sophisticated and fresh, without any of the soupy sentimentality of many duet CDs out there these days. Rounding out that fresh sound are the pretty spectacular talents of Marc Ribot on guitar, Dennis Crouch on bass, Jay Bellerose on drums, Norman Blake on guitar, and the multi-instrumentalist Mike Seeger. So, don't just sit there, go buy this CD.
Buy Raising Sand.
Author:
TJ Nelson
TJ Nelson is a regular CD reviewer and editor at World Music Central. She is also a fiction writer. Check out her latest book, Chasing Athena's Shadow.
Set in Pineboro, North Carolina, Chasing Athena's Shadow follows the adventures of Grace, an adult literacy teacher, as she seeks to solve a long forgotten family mystery. Her charmingly dysfunctional family is of little help in her quest. Along with her best friends, an attractive Mexican teacher and an amiable gay chef, Grace must find the one fading memory that holds the key to why Grace's great-grandmother, Athena, shot her husband on the courthouse steps in 1931.
Traversing the line between the Old South and New South, Grace will have to dig into the past to uncover Athena's true crime.