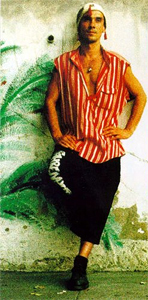 Paris, France – The legendary French-Spanish performer and songwriter Manu Chao released La Radiolina' (Because Music) – his first new studio album in six years – on September 3rd worldwide, except in the UK, where it was released on Monday, September 17th. The hotly anticipated new album is the follow-up to Chao's three million-selling 'Próxima Estación: Esperanza' in 2001.
Singer, songwriter, musician and globetrotter – Manu Chao has always divided his career between his two major passions in life: music and traveling. He has come a long way from his rise to fame as lead singer of the anarchic genre-bending band Mano Negra, but he has remained faithful to his first ideals, regardless of the huge success he has met as a solo artist.Shunning the 'star system', the anti-globalization activist does not hesitate to mix politics with music, drawing his inspiration from his Spanish origins and his relentless globetrotting. Cited by the late Joe Strummer as one of his favorite artists, Manu Chao recorded 'La Radiolina' in Barcelona. The new album was written and produced by Manu Chao with the help of mixer Mario Caldato Jr. (among whose credits are records with the Beastie Boys and Jack Johnson).
'La Radiolina' has already been called "a kaleidoscope of brilliant ideas and global musics, full of passionate conviction, nostalgia and celebration, and as such is a more than worthy successor to 'Clandestino'" in the UK's Observer Music Monthly. 'Clandestino', the artist's breakthrough debut solo album in 1998, was a landmark in global Latin fusion and went on to be one of the best-selling albums in French music history, clocking up sales of over three million copies around the world.
For this first UK tour since 2002, Manu Chao will be accompanied by his band, the Radio Bemba Sound System. A 3rd London date has just been added at the Brixton Academy on Tuesday, October 2nd, as his two previously announced shows at the same venue are now both sold out! After a long visit to the UK, Manu Chao will make his way across Europe, with several stops in Scandinavia and Germany and finishing up in Vienna. Following are the dates for the tour:
02/10 – Brixton Academy (London)
04/10 – Brixton Academy (London)
05/10 – Brixton Academy (London)
07/10 – Academy (Bristol)
08/10 – Apollo (Manchester)
10/10 – Academy (Glasgow)
11/10 – Rock City (Nottingham)
13/10 – Copenhagen
14/10 – Stockhom
16/10 – Malmo
17/10 – Oslo
19/10 – Hamburg
21/10 – Cologne
25/10 – Frankfurt
27/10 – Berlin
28/10 – Munich
1/11 – Vienna
Buy Manu Chao's recordings:
In North America: Baionarena, Clandestino, La Radiolina, Radio Bemba Sound System, Politik Kills Remix EP, Proxima Estacion: Esperanza, Radio Bemba Sound System Live, Baionarena (Limited Edition DVD-style packaging with photobook, import)
In Europe: Baionarena Digipack, La Radiolina, Proxima Estacion: Esperanza,
Author:
World Music Central News Department
World music news from the editors at World Music Central