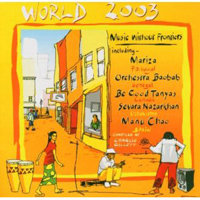 Various Artists
Music without Frontiers World 2003 (Narada World/Hemisphere Music, 2003)
If you want to know what British world music audiences are listening to, then slip the World 2003 compilation into your stereo. Compiled by BBC Radio London host Charlie Gillett, this 2 CD set containing 35 tracks will give you an earful of folk roots and world fusion. Although folks such as myself might find it light on the folk roots and heavy on crossover artists. Gillett and his producers dedicated the compilation to the late punk rocker Joe Strummer who died last December.
Similar to David Byrne and other post modern rock musicians, Strummer had delved into world music. Joe Strummer and the Mescaleros' Mondo Bongo blends Joe's political lyrics about biting insects and the CIA with exotic Latin American styling. And, well, the song fits into this world pop collection which also features an alternative rock band from Bordeaux, France (Noir Desir), an Algerian pop singer (Samira Sa'id) singing a duet with an Algerian pop singer ( Cheb Mami) and a Turkish pop singer (Sezen Aksu) who actually performs a traditional song on the disc. MC Weird, a DJ performer from Nigeria/UK, the Canadian folk group, The Be Good Tanyas, the Uzbekistan pop star Sevara Nazarkhan also fits in snugly here. And while I am no longer sure the exact definition of world music, I find myself enjoying this CD.The Spanish group, Ojos de Brujo chips in a flamenco celebration Naita, The Temple of Sound brings us French language poetry narrated by the seductive voice of Jean Jacques Burnel and further enhanced by Natacha Atlas' sexy Egyptian vocals that swirl around snaky sax and an ambient mix. The Italian Banda Ionica also seduces listeners' senses with their track, Come L'Aria. On the folk roots side of things, Estrella Morente joins Cuban Pepesito Reyes, Malian vocalist Kasse Mady Diabate offers his illustrious vocals, Lula Pena and Mariza sing fados, Swedish violinist Ellika Frissel and Senegalese kora player Solo Cissokho combine forces and Iraqi traditional vocalist Ilham Al Madfai shows us Iraq's soul.
World 2003 proves entertaining and it does invite new listeners to the world music genre. However, there is a shadow side when the music industry attempts to seduce new audiences by showcasing crossover artists and genres. For instance, if everyone starts singing in English, then many languages will be lost and if more musicians jump on the electronic bandwagon, then the essence of real acoustic instruments will disappear. Let's hope that the world music stalwarts don't lose the good fight and preserve folk roots music for future generations to enjoy.
This archival review by Patty-Lynne Herlevi formerly appeared on Cranky Crow World Music
Buy World 2003.
Author:
PatriciaHerlevi
Patricia Herlevi is a former music journalist turned music researcher. She is especially interested in raising music consciousness. She is looking for an agent and publisher for her book Whole Music (Soul Food for the Mind Body Spirit). She founded and hosts the blog
The Whole Music Experience and has contributed to World Music Central since 2003.