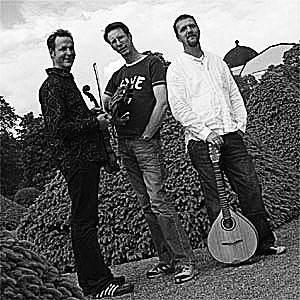 I often enjoy the stories of how bands formed. For instance, Väsen formed when Swedish nyckelharpa player Olov Johansson met guitarist Roger Tallroth at a music festival in Roros, Norway. When Olov asked Roger if he wanted to jam, the guitarist was mainly concerned with taking a shower and he turned down Olov's offer. However, someone else was using the shower at the time, so Roger then agreed to jam with Olov and this jam session lasted well into the night. Olle Paulsson witnessed the jam session and decided to start a label, Drone Records to release recordings by the musicians.
The first CD which featured Roger, Olov and viola player Mikael Marin was titled Väsen and soon the name of the CD became the name of the trio of talented musicians. The fateful encounters took place in 1989 leading Väsen to record several albums as a trio then later as a quartet when percussionist Andre Ferrari came on board in 1996.
Over the years, Väsen has performed as a trio and as a quartet in North America and across Europe while garnering enthusiastic responses from fans and the media. And anyone who thinks that Scandinavian folk-roots music is not worth their time, would be in for a shock. Groups such as Väsen, Värttinä and Wimme appeal to audiences from all age groups and backgrounds. And that is just the tip of the iceberg.
It's hard to pinpoint why Väsen is so special. Could it be the beautiful music created by a guitar, nyckelharpa and viola or is it the mind bending music that the musicians compose? Certainly a musical chemistry simmers between Roger, Olov and Mikael then further enhanced by a healthy dose of humor and innovative thinking.
Väsen's music is both ancient due to the fact that the nyckelharpa invented in the 1300's and also contemporary, after all these musicians have worked with rock musicians (Nordman) as well as, the equally inventive Kronos Quartet among other musical architects. And yet, the music (mostly polkas, marches) that I have heard Väsen perform falls too deeply into intuitive territory to be dissected. And it's far from a cliché to say that there is something for everyone on Väsen's recordings.
The following short interview took place over the Internet (E-mail) to announce Väsen's US tour occurring this fall. Väsen will be performing as a trio, supporting their latest CD, Trio.
CCWM: On a scale of 1 to 10, (10 pure traditional & 1 pop music), where does Väsen fit in?
Olov Johansson: I would say from 1 to 6 depending on what tunes we play, what kind of gig we are doing. Some things we do is very traditional and some things could at the moment only be described as Väsen-music.
CCWM: That question is for people who have discovered Swedish folk roots music for the first time. I know that Frifot researches traditional songs from previous centuries, going through old song books and arranging the old songs on their CDs, do members of Väsen also studied the song books of Sweden's past?
OJ: We have learned many hundreds of tunes from older musicians and we have looked others up in old transcriptions. But when we play concerts we play mostly new composed material. Some of it in a very traditional style, and some of it in a more contemporary Väsen-style.
CCWM: Is it true that most of the Swedish folk music composed in the past and today is folk dance music?
OJ: Yes, dance and ceremonial music.
CCWM: I read that you began playing the nyckelharpa at age 14, what event or person led you to this instrument?
OJ: My uncle played the nyckelharpa and my mother and I who were interested borrowed it from him for awhile. Then my mother bought one for herself but as it turned out, I am the one who mostly played it.
CCWM: What do you like most about the nyckelharpa? The least?
OJ: The sound when it is in good tune and shape. All the over-tones and the resonance from the sympathetic strings is just great when everything works fine. The worst thing is to keep the instrument in good shape. All the fixing with the playing mechanism and all the tuning takes too much time.
CCWM: Also I find it intriguing that Roger performs on a 12 string guitar since it also has sympathetic strings as well as, his unique tuning (A-D-A D-A-D) and Marin plays a 5-string viola. Do you ever have problems tuning the 3 instruments to one another?
OJ: When we are playing in situations with fast climate changes it is a problem. For example: Clubs with very strong lights that are turned on when the gig starts, after you have tuned and instruments have adapted to humidity and temperature in the room, air-conditioning, outdoor concerts in strong sunlight or late in the evening is other situations with lots of tuning and you can't take the time to get it exact during a gig.
CCWM: I also read that many Americans have been learning the nyckelharpa and I wondered if those folks are from all age groups or mainly children? I recently met students of the hurdy-gurdy and they were middle age people who discovered the instrument later in life or so I think.
OJ: From my experience most nyckelharpists in the US are middle age but you also meet children and older people who play the nyckelharpa.
CCWM: Finally, Väsen has toured internationally and I wondered which culture/country has shown the most enthusiasm for your music besides Sweden? When I have asked other musical groups this question, the answer is often Japan.
OJ: The US, Finland and Denmark. We haven't been to Japan yet but we will go there next year, so you have to ask that question again next year.
Please visit The Whole Music Experience or Cranky Crow Whole Music
(This interview originally appeared on Cranky Crow World Music in 2003).
Author:
PatriciaHerlevi
Patricia Herlevi is a former music journalist turned music researcher. She is especially interested in raising music consciousness. She is looking for an agent and publisher for her book Whole Music (Soul Food for the Mind Body Spirit). She founded and hosts the blog
The Whole Music Experience and has contributed to World Music Central since 2003.