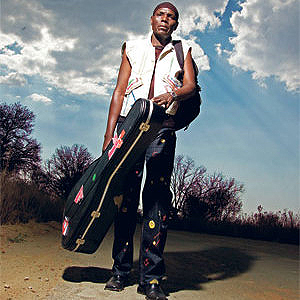 Silk Hope (North Carolina), USA – The Shakori Hills Grassroots Festival of Music and Dance announced the addition of Zimbabwean Afropop icon Oliver Mtukudzi to their fall lineup. The bi-annual festival held this fall from Thursday, October 11 through Sunday, October 14 never fails to present a great variety of world, folk, bluegrass, blues, rock, jazz music, and everything in between. One of the best features of Shakori Hills Grassroots festival is its presentation of artists audiences should know but rarely have a chance to see. This is definitely true of Mtukudzi.
Oftentimes referred to as "Tuku," Mtukudzi began recording in the mid-1970s as a member of a band called Wagon Wheels. He later formed Black Spirits, the band that has backed him throughout his career. Mtukudzi is heavily influenced by a genre called "chimurenga" that is inspired by the hypnotic rhythms of the mbira (thumb piano). Chimurenga, however , is just one of many styles performed by Mtukudzi, as his music also incorporates pop influences, South African "mbaqanga," the energetic Zimbabwean pop style "JIT," and the traditional kateke drumming of his clan, the Korekore."I have tremendous respect for Oliver, not just because of his amazing body of music, but the commitment to raising people up in all the work he does. …it is high time the rest of us have a chance to see what has made "Tuku" such a treasure in his homeland," says rock star Bonnie Raitt.
Mtukudzi has been with the Heads Up International label since his 2005 release Nhava. They released his newest album Tsimba Itsoka worldwide on August 28 of this year. Translated literally, Tsimba Itsoka means "No foot, no footprint," a simple phrase that serves as the foundation for every song on the album. "Everyone's footprint is different," says Mtukudzi, who has crafted a brilliant body of work over the past three decades by cutting to the core of the most complex political, social and spiritual themes and recasting them in the most simple and direct terms. "Each person is moving on a different path through life. Some are traveling in a positive direction, while others are traveling in a negative direction. But everyone leaves their mark on the world, no matter how big or small."
Buy Tsimba Itsoka and Nhava.
More information:
Author:
World Music Central News Department
World music news from the editors at World Music Central