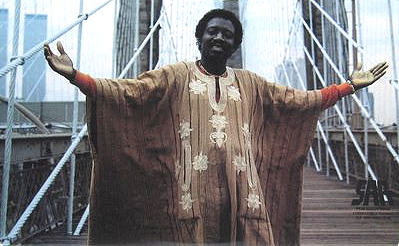 Laba Badara Sosseh, the renowned vocalist of Senegalese and Gambian salsa, passed away on Thursday September 20, 2007 at around 3 a.m local time after a long illness. He is survived by 27 children.
;"This monument of African music was amongst the first Africans to make an incursion into the international stage," said Gambian newspaper The Point.
Born in The Gambia on March 12, 1943, Laba Sosseh was half Senegalese, half Gambian. Laba's father was from Senegal and his mother is Gambian. Although he is frequently categorized as Senegalese, Laba grew up in Banjul (The Gambia), listening to Cuban music and Johnny Pacheco, who was one of his stars.Laba moved to Senegal in the 1960s and in 1962 he and Nigerian sax player Dexter Johnson, formed pioneering salsa band Star Band de Dakar. He also worked with Special Liwanza Band, which recorded for producer Aboudou Lassissi's Sacodis label.
Lassissi took Laba Sosseh to New York to record the classic LPs, "Salsa Africana Vol.1 & 2". Laba later went to Paris to record an LP with Cuban band Orquesta Aragón, and he headed back to New York to record several LPs for Roberto Torres' label. Laba Sosseh collaborated with singer Monguito and other New York salsa musicians, thus leading the way to many similar kinds of musical associations.
Laba collaborated with popular Senegalese salsa band Africando, with whom he remade his trademark hit "Aminata" in 1998's Baloba!
His music appeared on numerous recent compilations such as Tinder Records' Salsa Africa and Putumayos' Congo to Cuba.
Author:
World Music Central News Department
World music news from the editors at World Music Central