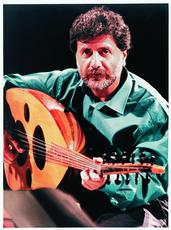 Just a few weeks ago, a venue in San Diego, California denied on political grounds the use of their theater to renowned Lebanese musician Marcel Khalifé, after local concert organizers had already arranged the event with the Salvation Army, who operates the venue, The Joan B. Kroc Theatre at the Salvation Army Corps Community Center.
The possibly discriminatory incident demonstrates the misperceptions and tensions that exist in today's political climate towards Arabs, even those who advocate for peace. Concert organizers—who had been in touch with the venue for several months and had followed their application process rigorously—were told that a concert by Khalifé—an UNESCO Artist for Peace— would be "divisive" and "unbalanced" because it does not present an Israeli artist alongside Khalifé.
Khalifé has faced persecution in the Middle East, but never something this inflammatory in the U.S.A. Earlier this year, a performance of his was denounced in the Persian Gulf island nation Bahrain. Khalifé's music was also recently banned from radio, television, and on stage in Tunisia.
Damned in parts of the Middle East for supporting freedom of expression, it is ironic that in the U.S.A. he would find similar efforts to quiet him. In spite of a small contingent in San Diego, Khalifé has twenty four concerts from September 28 to November 18, including every major city in the U.S.A. and Canada, many of them in major performing arts centers. The tour will include a concert in San Diego at another venue.
Khalifé has often spoken out for peace and reconciliation, having risked his life performing in bombed-out concert halls during Lebanon's civil war. Last August, Khalifé wrote to fellow UNESCO Artists for Peace in response to Israel's bombing of Lebanon, "Nothing justifies our art other than to speak for those who cannot speak. This is the cause for which we dedicated our efforts, and the cause that endorsed our voices. We only wished to take it as far as we can, and vowed to release our work as songs of love for, and unity with, the victims of persecution everywhere."
Author:
World Music Central News Department
World music news from the editors at World Music Central