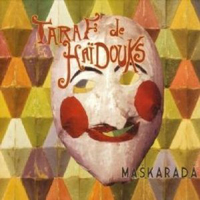 Taraf de Haidouks
Maskarada (Crammed Craw 40, 2007)
Maškaradă is Taraf de Haidouks' fist recording since the famed "Band of Gypsies." Pooling the exceptional talent of Taraf de Haidouks's 12 member group, Maskarada takes the classical works of Bartók, Khachaturian, Ketèlbey and Albéniz and transforms them into a riotous musical extravaganza. Maškaradă is all gypsy fire, poignant repose and pagan exoticism and not for the faint of heart or those scaredy cats afraid of a little table dancing.
Leaping headlong into "Ostinato and Romanian Dance" by Bartok, Taraf de Haidouks opens the CD with an exuberance that certainly must be the mark of any self-respecting Balkan Gypsy band. Segueing into "Lezghinka" by Aram Khachaturian, the mood turns to the plucky, quick good-natured feel of string, accordion and cymbalums.
"Waltz from Masquerade," also composed by Khechaturian, plunges the listener into the faintly creepy composition, but it's Taraf de Haïdouks's Gypsy hooks that make the piece. Taraf de Haidouks treatments of "In a Persioan Market," "De Cînd Ma Aflat Multimea" and "The Missing Dance" dazzle with their fevered strings and romping spirit. "Asturias" surprises with its gentle lapses into Gypsy lament, tantalizingly violin driven frenzies and soothing accordion promenades.
The musicianship of Taraf de Haidouks is all bright work, exuding passion and the exhilarating richness of Gypsy soulfulness. Maškaradă is at once vibrantly joyful and then utterly grief stricken, molding moods as easily as an artist would shape a lump of clay. Creating a complex musical folkloric landscapes as rich and ripe as the Gypsy tradition makes Maškaradă dizzyingly delightful.
Buy Maškaradă.
Author:
TJ Nelson
TJ Nelson is a regular CD reviewer and editor at World Music Central. She is also a fiction writer. Check out her latest book, Chasing Athena's Shadow.
Set in Pineboro, North Carolina, Chasing Athena's Shadow follows the adventures of Grace, an adult literacy teacher, as she seeks to solve a long forgotten family mystery. Her charmingly dysfunctional family is of little help in her quest. Along with her best friends, an attractive Mexican teacher and an amiable gay chef, Grace must find the one fading memory that holds the key to why Grace's great-grandmother, Athena, shot her husband on the courthouse steps in 1931.
Traversing the line between the Old South and New South, Grace will have to dig into the past to uncover Athena's true crime.