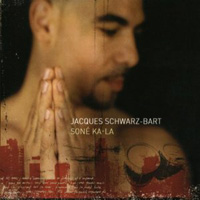 Jacques Schwarz Bart
Soné Ka-La (Emarcy/Universal BOOO9204-02, 2006)
Guadeloupe's Jacques Schwarz-Bart didn't start seriously playing the saxophone until the age of 24, making up for lost time by quickly becoming a top notch player and sideman to such pop, jazz and global music notables as Roy Hargrove, Giovanni Hidalgo, Danilo Perez, Tabou Combo and D'Angelo. Soné Ka-La is his third solo CD. It's just recently been released to those of us in the U.S. and it's a beauty.
Combining jazzy funk and soul with the African-based drum rhythms known as gwoka, Schwarz-Bart and his fellow players have created a superb hybrid that's sure to grab both jazz and Caribbean music fans.
Gwoka rhythms have gotten the modern treatment before, most notably by Guadeloupian zouk band Kassav' (whose vocalist Jacob Desvarieux is featured here), but never quite like this. The fluttering, locked-in grooves of indigenous boule and marke hand drums are the first thing heard on the opening "Papale," joined by metallic clinking from a triangle, springy bass and guitar and eventually Schwarz-Bart's sax, laced with a wah-wah effect that's both quirky and earthy.
Despite a few more electronic embellishments as the disc progresses, Schwarz-Bart keeps his playing mainly uncluttered and emotive, always perfectly decorating the gwoka beats that are never far from the forefront and often right in the thick of it.
Tunes that range from fiercely funky to deliciously smooth cast their spell, including the lengthy, echoey "Ascent," the plaintive "Deshabille" (where Desvarieux's nicely gravelly voice is tempered by Schwarz-Bart on flute), and "Love," which inspires just that through sweetly dreamy wordless vocals by Stephanie McKay. Then there's "Pe La," which recasts "Papale" as a spirited rant by Admiral T that weighs in somewhere between soca and Jamaican dancehall.
The remix that surfaces after the fadeout of the melancholy final track "Lewoz" is a buzz kill that can be easily skipped, but you should by all means savor every other second of this wonderful work.
Buy Soné Ka-La.
Author:
Tom Orr
Tom Orr is a California-based writer whose talent and mental stability are of an equally questionable nature. His hobbies include ignoring trends, striking dramatic poses in front of his ever-tolerant wife and watching helplessly as his kids surpass him in all desirable traits.