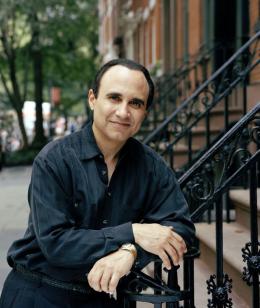 Concert Preview
Michel Camilo trio
Jazz Alley, Seattle, Washington
September 13–16, 2007
GRAMMY and two-time Latin GRAMMY Award winner pianist Michel Camilo returned to the straight-ahead jazz trio setting with the April 24, 2007 release of Spirit of the Moment. Camilo will be celebrating this recording at Seattle's Jazz Alley–Thursday, September 13th through Sunday, September 16th. Camilo will be joined by Cuban bassist Charles Flores and Cuban drummer (new to the trio), Dafnis Prieto. The show times for Thursday through Saturday are 7:30 and 9:30. On Sunday there is only a 7:30 p.m. performance.I first encountered Michel Camilo when he appeared in Spanish director Fernando Trueba's Latin jazz documentary, Calle 54. The frames of the film could barely contain Camilo's athletic performance. One would never say that his fingers were poised over the keys of his instrument, but instead, like a spellbinding gymnastic performance, his fingers stuck perfect landings time and time again, only to spin off in a whole new direction. And the chemistry between the bassist, drummer, and Camilo, displayed alchemical teamwork. The performance lived in the moment, while anticipating a breathless future.
My next encounter with Camilo's music came a few years later with the arrival of Spain Again, where the pianist teamed up with flamenco guitarist, Tomatito. Another fiery recording to be sure with the musicians taking flight on compositions by Astor Piazzolla, and their own illustrious work, which left hearts burning with passion. Camilo plays his instrument with a burst of unworldly energy. Watching him perform on video, or listening to his work via a CD, raises hopes for the future of humanity. It's as if some divine energy has been set loose in the pianist's body, and the result amazing.
Shortly after, falling in love with Spain Again, (Universal Music), I received an orchestral work, Camilo, joining forces with the Barcelona Symphony Orchestra and reinterpreting Gershwin's Rhapsody in Blue, (Telarc), and boy, does that recording fly! It's not that no one has ever recorded a spirited version of Rhapsody in Blue, it's just that Camilo's Latin flare, effervescent piano playing, and instincts, breath new life into an already gorgeous work.
And by this time, Camilo already appeared more decorated than an army general, with awards from both the music world, and from the Dominican Republic (country of his birth). He has chalked up, two Latin GRAMMY Awards and one GRAMMY, along with civic honor awards. He could have stopped at that point and rested on his laurels, but the man loves music, and thankfully so. He doesn't even take time out to catch his breath, and he's off working on another heartfelt project.
He has performed in the realm of jazz, classical, and Latin jazz, while composing highly original music and interpreting some of the greatest composers in jazz and classical. His music for the most part, marries all of these styles. You can hear this on his latest recording, "Spirit of the Moment"–a perfect title for many reasons. The album is divided into three sections, with four tracks in each section. While the bulk of the recording features original compositions, written in a short amount of time, the standards, by John Coltrane, Miles Davis, Bill Evans, and Wayne Shorter might surprise listeners who only know Camilo as a Latin jazz player or a classical player.
The trio, which includes, Cuban bassist Charles Flores and Cuban drummer, Dafnis Pietro, brings us the rapid-fire version of Coltrane's "Giant Steps"–clocking in just under 2 minutes. Although this is a studio recording, it possesses a live-on-the-spot feeling. Many of the songs you hear on the disc occurred on the first take. The musicians had little rehearsal, and as the album's title implies, these guys were in the spirit of the moment. The playing feels tight, funky, fresh, and exciting. A Buddhist might be content listening to this in-the-moment recording, while others might feel electrically-charged as this music pulses through their veins and arteries.
While any of Michel Camilo's recordings could suffice in satisfying a hunger for caliente jazz-classical fusion, go see Michel Camilo's trio live. And better yet, grab that front row seat so you get the best view of fingers flying across the keyboard, fiery bass, and innovative drumming. Although you had better get to the venue early. This is where beauty meets athleticism, and the whole world suddenly appears that much sweeter, that much safer, that much more enchanting and worthwhile.
For ticket information, contact Jazz Alley at (206) 441-9729 or go online to http://www.jazzalley.com.
Buy Spirit of the Moment.
Author:
PatriciaHerlevi
Patricia Herlevi is a former music journalist turned music researcher. She is especially interested in raising music consciousness. She is looking for an agent and publisher for her book Whole Music (Soul Food for the Mind Body Spirit). She founded and hosts the blog
The Whole Music Experience and has contributed to World Music Central since 2003.