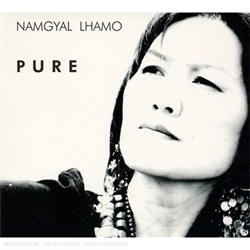 Vienna, Austria – Tibetan music to western audiences have often symbolized meditative mindscapes and spirituality, often luring them into experiencing the mystical with the appeal of its otherworldly chanting and sound.

And then in a world where an ancient culture is trying to survive against all odds comes a singer with a petite frame, powerhouse personality and an explosive voice to create music that is a perfect blend of ancient lost world sound gliding along in parallels to upbeat, chic and energetic club grooves.
By preserving the traditional core of Tibet in one (Pure) to transporting its international presence to the most contemporary of platforms with all its flavor intact, Namgyal Lhamo's latest albums are a real treat.Netherlands based Namgyal Lhamo, a multi-talented traditional Tibetan singer, performer and winner of The Best Female Singer award at The Tibetan Music Awards 2007; has broken rules and expanded perception to create 2 new albums which were released in France and the rest of Europe this month.
After receiving rave reviews in India, Namgyal Lhamo's other offing, Pure, a wonderfully crafted album with Traditional sound is due for a simultaneous release.
"The Enchanted Land" is filled with energy. From the opening "Changkha" an exotic Mountain Song-Lu; which is sung to almost near perfect levels to the mind blowing "Pangyan Methok" which is underplayed and toned to perfection with a groove that is bound to set the dance floor ablaze. The entire album is minus the usual clichés that tend to dog popular Asian sound and unnecessary gimmicks-leaving the listener craving for more.
"Pure" could not have been better. All 9 songs in the albums are real and alive and traditional Tibetan through the entire journey. Its presentation is minimalist and Zen, and screams that "less is more"
Namgyal Lhamo's singing is intentionally underplayed in both albums and are a testimony to this ex-TIPA (Tibetan Institute of Performing Arts), performing artist's command over her craft, immense talent and stature.