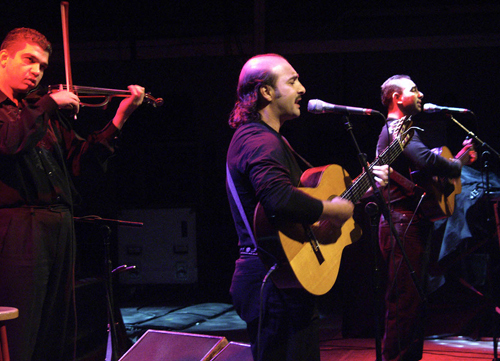 The Madison World Music Festival 2007 will take place September 13 and 14. The annual event will present music from Latvia, the Balkans, Vietnam, the Dominican Republic, Hungary, Tuva, Iran, Cuba, Holland, Algeria, Rajasthan, Zimbabwe, the Sephardic diaspora and Ivory Coast.
Three Rom (Gypsy) groups will showcase diverse, exhilarating forms of Romani music and entertainment (including the fakirs, dancers, poets and fire eaters of Rajasthan's Dhoad Gypsies). Half of the shows this year are headed by women: Ilgi (Latvia), Huong Thanh (Vietnam), Haale (Iran), Estrella Acosta (Cuba, Holland) and Dobet Gnahoré (Ivory Coast), with Chirgilchin (Tuva) presenting Aldysmaa Koshhendey, who plays Tuvan mouth harp and bells and specializes in long song, a singing style common in Mongolia. The festival is free and open to the public.
The Madison World Music Festival is presented by the Wisconsin Union Theater, Wisconsin Union Directorate and the Madison World Music Festival Committee, with support from the Alliant Energy Foundation, American Family Insurance, Anonymous Fund, Associated Students of Madison, Consulate General of the Netherlands, CREECA, Dane County Cultural Affairs Commission with additional funds from the Overture Foundation and Pleasant T. Rowland Foundation, UW-Madison Division of International Studies, Evjue Foundation, Hillel and I.C.E. (Israel Cultural Experience), International Student Services, M&I Bank, Madison Folk Dance Club, Multicultural Council, STA Travel, UW-Madison School of Music, Wisconsin Folk Arts Association, the Willy Street Fair, and Wisconsin Distributors. Media sponsors for the festival include: Wisconsin Public Radio's "Higher Ground" with Jonathan Overby, WORT-89.9 FM Community Radio, and WSUM Student Radio.
See the schedule at www.union.wisc.edu/worldmusic.
A listing of enriching lectures, workshops, master classes, artists' demonstrations, and outreach events related to the festival is available at www.union.wisc.edu/worldmusic/workshops.html.
And, new this year, the public is invited to donate to help keep the festival free for years to come, at www.union.wisc.edu/worldmusic/WMF-donate-07.pdf.
Author:
World Music Central News Department
World music news from the editors at World Music Central