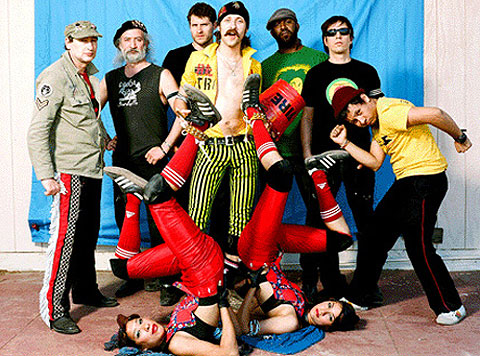 Seattle (Washington), USA – Bumbershoot, Seattle's Music & Arts Festival will take place during the 2007 Labor Day weekend celebration. Outstanding talent in music, literary arts, comedy, visual arts, theater, spectacle, installation, dance, and film will fill the Seattle Center, September 1 – 3. World music and American roots music play a big role in its programming. Several international stars will perform this year.
Music line-up:Zap Mama • Gogol Bordello • Yungchen Lhamo • Steve Earle • The Shins • Wu-Tang Clan • Panic! At The Disco • Fergie • Sean Paul• John Legend • Joss Stone • Gym Class Heroes • Kings Of Leon • Crowded House • Lupe Fiasco • +44 • Black Rebel Motorcycle Club • Rodrigo y Gabriela • Andrew Bird • Devotchka • Devendra Banhart • Ted Leo And The Pharmacists • • The Frames • Ian Ball (Of Gomez) • Kill Hannah • Lyrics Born • Anberlin • Norma Jean • Art Brut • The Gourds • Head Automatica • Barrington Levy • The Avett Brothers • Tokyo Police Club • Aqueduct • The Greyboy Allstars • Roky Erickson & The Explosives • Menomena• K'naan • The Damnwells • Bouncing Souls • Soulive • The Apples In Stereo • The Holmes Brothers • John Wesley Harding • My Brightest Diamond • Bert Jansch • Allison Moorer • Floater • Mae • The Horrorpops • Ryan Shaw • The Watson Twins • Magnolia Electric Co. • Mocean Worker • Rosie Thomas • Ian Mcferon Band • This Providence • The Aggrolites • The Receiving End Of Sirens • Viva Voce • The Saturday Knights • Ohmega Watts • Rose Hill Drive • The Mother Truckers • Honeydripper All-Stars • St. Vincent • Gabriel Teodros • Schoolyard Heroes • Stars Of Track & Field • Seaweed • Joan As Police Woman • Honeycut • Grand Archives • Sam Yahel Trio • Kultur Shock • The Cave Singers • Bloodhag • Dyme Def • D.Black • Tiny Vipers • Danger:Radio • The Lashes • Night Canopy • Greta Matassa Quartet • The Blakes • Smoosh • The Cops • North Twin • Carrie Akre • Siberian • David Jacobs-Strain • Step Cousins • The Trucks • Das Llamas • Fleet Foxes • The Whore Moans • The F**King Eagles • The Pharmacy • Mono In Vcf • Iceage Cobra • Book Of Black Earth • Natalie Portman's Shaved Head • Lillydale • Central Services • Shake Some Action! • Darrell Grant Trio • Sneaky Thieves • Adrian Xavier • Robbie Laws Bigger Blues Band • Deardorf/Peterson Group • Picoso • Victor Noriega (Trio +2) • The Bad Things • Lazybones • Forgotten Sol • For Years Blue
For the past 37 years Bumbershoot has strived to be a socially responsible and environmentally friendly Festival. As a uniquely urban event nestled in one of the nation's greenest locales, the Pacific Northwest, Bumbershoot maintains a reputation as a trendsetter within the festival industry. It announced a series of innovative and interactive strategies to make this year's Bumbershoot the greenest ever. For our part we're using bio-diesel generators to power Mainstage performances with all other venues being powered by already carbon neutral Seattle City Light, requiring vendors to compost pre-consumer waste, recycling vendor grease through Standard Biodiesel, banning the use of Styrofoam, and encouraging green on-site activities from its sponsors.
The Festival will also feature over 3,000 square feet of bio-degradable signage, offering eco-friendly merchandise, and printing collateral materials on FSC-certified paper products. In addition, Bumbershoot will go carbon neutral with the help of NetGreen and Climate Trust to support projects that reduce and prevent greenhouse gas emissions through energy efficiency and other projects.
But the greening initiatives go well beyond simple technical changes. In keeping with Bumbershoot's tradition of providing thought-provoking and original content, the Festival will showcase cutting edge and interactive "green lifestyle" installations
and programming.
These include "Planet Cinema," a collection of eco-oriented short films; a series of children's activities promoting alternative energy and ecological awareness; "Peddling Art," a roving work that encourages human power for the free exchange of thoughts and idea; and a collaboration between Canada's Vancouver Design Nerds and Issaquah's Pomegranate Center to create the Car Park project, which turns old cars into gardens. Found art frontrunners, ReadyMade magazine, will be onsite taking ordinary used items and making them into something spectacular.
In order to spur others into action, Bumbershoot has created incentive plans that will allow patrons to get in on the greening act while exerting minimal effort. A $2 optional donation when buying a ticket online will help offset 440 lbs. of CO2 through
NetGreen and Climate Trust. Attendees who carpool will receive discounted parking rates if they park at Seattle Center lots, while those who ride their bikes to the event can park in the Bumbershoot Bicycle Corral presented by Clif Bar and CamelBak, who will gift riders with free goods. Those who prefer mass transit can enjoy a quick ride on the Monorail or the Bumbershoot dedicated metro shuttle from the Northgate park and ride.
Additionally, festival-goers will get cold hard cash and prizes when they get caught recycling. For more information on how to add more green to your life, visit: www.bumbershoot.org/green.
Author:
World Music Central News Department
World music news from the editors at World Music Central