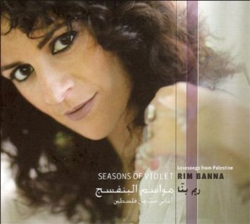 Rim Banna
Seasons of Violet (Kirkelig Kulturverksted, 2007)
While working on the famed Lullabies from the Axis of Evil, KKV producer Erik Hillestad was struck by Rim Banna's voice and immediately signed the Palestinian singer to a recording contract. The well-received The Mirrors of My Soul was Banna's first solo CD on the KKV label. Continuing on the same creative path, Hillestad and Rim Banna have released Seasons of Violet (Lovesongs from Palestine) on the KKV label.
Ms. Banna teamed up with acoustic guitarist husband Leonid Aleixenco to compose all the songs on "Season of Violet," with some of the lyrics proved by Ms. Banna's mother. Rounding out the creative team are the musicians from her first recording; they include Eivind Aarseth on guitar, Gjermund Silset on bass, Rune Arnesen on drums and David Wallumrød. The combined creative collaboration of "Season of Violet" pursues a lush eloquence, elevated by Ms. Banna's polished vocals.
Opening with a chunky Middle Eastern beat is "The Hymn of the Sea" with Banna's trademark soulfulness, is beguiling. The cool, sweeping compositions, tinged with jazz and pop elements, entice with the ever-varying shades of love that range from the deepest violet to the softest lilac. "The Night Has Fallen," a ballad dedicated to Palestinian refugees, evokes a delicate poignancy with its heartbreaking lyrics taken from a Palestinian folk verse. "The Light Gown of Soul" lures the listener to a lighter side of love and delights with some funky backup guitar, anchored by Banna's beautiful voice. < The plumy ballad and title track "Season of Violet," along with tracks "The First Rain," "I'll Come to You Daisy Like" and "After You Left" possess a breathy sweetness and almost solitary mood coaxed along by Banna's vocal interpretations. My favorite track has to be "A Prayer." I do love it when a piece of music comes along that raised the hair on the back of my neck and Banna's "A Prayer" surely does it. Teaming up with Hindu monk Siddhartha Krishna in a duet combining a Hindu chant from a Sanskrit verse and Banna's Arabic lyrics is perhaps the most world music inspired piece on the CD. Its spare, sophisticated, Eastern sound soars in conjunction with the vocals of Krishna and Banna, providing the CD a transcendental love song. Seasons of Violet is simply evocative. While it could be accused of having a more swank coffeehouse feel than that of a traditional world music CD, Rim Banna's voice is worth it. Also worth mentioning is the CD's clean, polished sound, that quality stamp that surely must belong to Erik Hillestad and KKV productions. Buy Seasons of Violet (Lovesongs from Palestine) and Rim Banna's other CDs: The Mirrors of My Soul, This Was Not My Story.
Buy Seasons of Violet in Europe
Author:
TJ Nelson
TJ Nelson is a regular CD reviewer and editor at World Music Central. She is also a fiction writer. Check out her latest book, Chasing Athena's Shadow.
Set in Pineboro, North Carolina, Chasing Athena's Shadow follows the adventures of Grace, an adult literacy teacher, as she seeks to solve a long forgotten family mystery. Her charmingly dysfunctional family is of little help in her quest. Along with her best friends, an attractive Mexican teacher and an amiable gay chef, Grace must find the one fading memory that holds the key to why Grace's great-grandmother, Athena, shot her husband on the courthouse steps in 1931.
Traversing the line between the Old South and New South, Grace will have to dig into the past to uncover Athena's true crime.