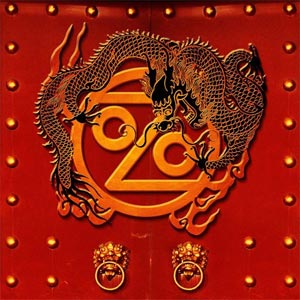 With the frenzy of back-to-school preparations in full swing, every parent is asking the same question – If I am paying all this money for tuition, do I really have to spend even more money on extras? The simple answer is yes. There's a good reason behind this, and that reason is the little skeevers will clean out your house you off if you don't. The average student heading off to college for freshman year or returning to campus can empty your house of goods faster than a frat party can empty a keg of beer. Right now you could use some help and World Music Central is here to offer up some suggestions on inexpensive goodies for your student.First up is music, of course. It's probably true that your taste in music and your student's taste in music parted ways some time back when you were both singing along with the animated characters from a Disney movie, but there's no reason not to send them away without checking out the new releases you and student can groove to. Giving a CD might be that perfect going away gift. Remember, you can afford to be generous because all that food in the refrigerator is now really yours.
Here are some of our hot picks for world music fans:
Ozomatli – Don't Mess With The Dragon (Concord Music Group, 2007)
Various Artists – Motown Remixed, Vol. 2 (Motown, 2007)
Putumayo Presents World Hits
Oliver Mtukudzi – Tsimba Itsoka
Anoushka Shankar & Karsh Kale – Breathing Under Water
Vieux Farka Toure – Remixed UFOs Over Bamako
Zap Mama – Supermoon
Turbo Tabla – The Belly and the Beat
Ojos de Brujo – Techarí Remixes (Diquela/Six Degrees, 2007)
Spanish Harlem Orchestra – United We Swing (Six Degrees, 2007)
Putumayo Presents Americana (alt country)
Portable CD players have for the most part kept up the quality while becoming more affordable. Here are a few players with good ratings that won't break your budget.
Panasonic SL-SX480A Portable CD Player is available for $32.99 and comes with anti-skip protection and backup memory function. It supports CD, CD-R/RW and MP3 formats and includes a set of headphones.
The GPX BCD1806 Boombox with CD Player and AM/FM Tuner sports a good rating and costs only $19.99. Combining a CD player and AM/FM tuner, it comes with detachable AC power cord, but unfortunately only comes with a measly 90-day warranty.
For $59.49 you could get the Sony CFD-S350 CD/Cassette Portable Boombox that combines a cassette deck and AM/FM tuner. It comes with remote control and can dub from CD to cassette, so your student can make dozens of love song tapes for that special someone.
There's also the Emerson PD5203 Portable CD-R/RW Player with AM/FM Stereo Radio for $29.99. It's compatible with CD-R and CD-RW formats, has a programmable memory and two 3-inch speakers.
For MP3 fans there's the SanDisk Sansa M230 512 MB MP3 Player for mere $25.36. It boasts a 512 MB memory, storing up to 8 hours of MP3 files or 16 hours of WMA audio. It also has a built-in microphone and integrated FM radio.
At $64.99 the RCA RD1000 Kazoo 32 MB MP3 Player is Windows compatible and promises a 32 MB flash memory and a USB connection for those fast downloads before heading off to class.
Maybe what your student really needs is the Sony ICF-CD815 AM/FM Stereo CD Clock Radio. For $39.00, your sleepy precious little angel might get some use out this baby's digital AM/FM stereo tuner, an audio line for MP3 player, easy to read LED and dual alarm with extendable snooze option.
The bargain buy here would definitely be the Sony ICF-C218BLACK Automatic Time Set Clock Radio priced at $10.96. For the student already swimming in audio equipment might, he or she might just need something simple with this radio and alarm clock duo.
Now, on to some really useful. Check out Sennheiser HD 202 Headphones. Priced at $27.46, these headphones are a deal.
The JBuds Hi-Fi Noise-Reducing Ear Buds promise excellent sound quality in a compact size are only $19.95.
Remember to send your students off with some sound warnings about the proper use of headphones, reminding them who it is that is still paying for their medical coverage.
There are also a number of books available out there on music instruction that might be useful for your student. There's Sandy Feldstein's Practical Theory Complete: A Self-Instruction Music Theory Course (Spiral-bound) or the GUITAR Oriented MUSIC THEORY including Cheat-Sheets – Book.
For music making software, you might want to check out the Apple GarageBand and its Jam Packs, like Apple Garageband Jam Pack – World Music. If you don't have a Mac, you can try Hip Hop 6 – eJay or Dance 6.
And you shouldn't forget yourself. You've got a room to set as a home recording studio, so why not follow that dream of composing that rock opera that you've promised to write.
Finally, no industrial beige dorm room would be complete without music posters. You can check out the selection at Allposter.com, Art.com or Cafepress.com. They might be a little light on world music musicians, but Art.com has some beautiful Bob Marley prints that are stunning.
We here at World Music Central hope that you students out there have a wonderful school year and that all you parents out there get your money's worth.
Author:
TJ Nelson
TJ Nelson is a regular CD reviewer and editor at World Music Central. She is also a fiction writer. Check out her latest book, Chasing Athena's Shadow.
Set in Pineboro, North Carolina, Chasing Athena's Shadow follows the adventures of Grace, an adult literacy teacher, as she seeks to solve a long forgotten family mystery. Her charmingly dysfunctional family is of little help in her quest. Along with her best friends, an attractive Mexican teacher and an amiable gay chef, Grace must find the one fading memory that holds the key to why Grace's great-grandmother, Athena, shot her husband on the courthouse steps in 1931.
Traversing the line between the Old South and New South, Grace will have to dig into the past to uncover Athena's true crime.