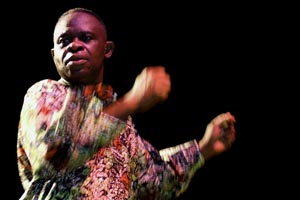 Samba Mapangala & Orchestra Virunga at the San Juan Capistrano Library, July 21st, 2007
The fountain-adorned courtyard of the San Juan Capistrano Regional Library in California's Orange County would be a lovely place to while away a summer evening even if nothing at all was going on there. But since 1990 it's frequently served as a perfect place for concerts during the warm weather months. A highlight of my 2006 summer was seeing Congolese rumba supergroup Kékélé at that intimate venue. This year it was Samba Mapangala, another legendary Congolese voice bringing a likewise sweet sound and style.
Zaire-born Mapangala's success really began kicking in when he relocated to Nairobi, Kenya and formed the first incarnation of his group Orchestra Virunga, whose music straddled Congolese and Kenyan strains to bring out the best in both. Now, many years after that initial splash and having since become a resident of Washington, D.C., he's recently completed a tour in support of his latest album, a marvelously sparkling work entitled Song and Dance on his own Virunga label.
It was a smallish audience that turned out for the earlier of two scheduled performances that evening, and most attendees were likely unaware of just how great Mapangala's status in the rumba realm is. Nonetheless, he and his band (which included such renowned and in-demand players as guitarist Bopol Mansiamina and drummer Komba Bellow) were in prime form. Mapangala's warbling vocals swooped and soared joyously, showing that his frequent smile was a sincere one, and the support he got from harmony singer/animateur/dancer Rissa Rissa doubled the pleasure. Chiming electric guitars courtesy of Mansiamina and Huit Kilos carried more than a hint of soukous (rumba's more modernized variant) sweetened at key moments by Jimmy Mvondo's saxophone.
The rhythm section- Bellow, bassist Miguel Yamba and conga player Pablo Limo -provided a snug and at times subtly shifting foundation that kept the African/Latin duality of the music locked in and just as assuredly loose. I stood at the rear of the meager masses, swaying to the heavenly music and keeping one eye on the resolutely seated majority.
Eventually, I saw heads bobbing, feet tapping and shoulders shimmying. Reserved though they were about showing it, they seemed to be getting the picture as to why the album Mapangala was supporting is called Song and Dance. What they were hearing was some of the world's greatest dance music, and while standing up to dance is the best way to go about it, Samba Mapangala will groove you no matter what position you're in.
World music-loving denizens of Southern California take note: The San Juan Capistrano Library has many a great, affordable concert to offer you, and in an ideal setting to boot. This was but one of them.
More at: www.musicatthelibrary.com.
Author:
Tom Orr
Tom Orr is a California-based writer whose talent and mental stability are of an equally questionable nature. His hobbies include ignoring trends, striking dramatic poses in front of his ever-tolerant wife and watching helplessly as his kids surpass him in all desirable traits.