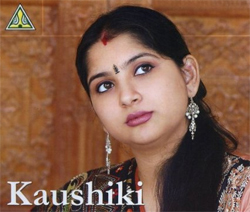 Kaushiki Chakrabarty
Kaushiki (Sense World Music, 2007)
Classical Indian vocalist Kaushiki (prodigious daughter of vocalist Pandit Ajoy Chakrabarty), marries power, grace and beauty with mature vocals that belie her youth. On her second (self-titled) Sense World Music album, Kaushiki's vocals are featured in both a studio setting (Disc 1), and a recital captured at the Saptak Festival in India. The hearty vocals that appear on the live discs certainly command the attention of our ears. Kaushiki's flawless vocals sail seemingly effortlessly through Raga Rageshri (Disc 2), and the Thumri Misra Pilu Jiya Mora Na Lage (Disc 3), and backed by Yogesh Samsi's tabla beats. Listeners do not need to be experts on Indian classical music to thoroughly enjoy listening to these live discs.
The studio recording, which sounds even more radio-friendly, brings in a battery of Indian drummers, (Tabla, Mridangam, Ghatam, and Pakhawaj), a violin, a harmonium, and a Sarangi, which do more than act as a backdrop for Kaushiki's rich vocal palette. Her voice soars majestically through the opening Dhrupads (1, 2), and then provokes a range of emotions in the Khayals, Varnam, Tarana, Thillana, Dadra and ending with the devotional, Bhajan Ganesh Vandana. The playfulness of the Thillana (7), Raga Kuntanavarali contrasts with the haunting, Dadra (8), Ranga Pichkari Mat Maro and Kaushiki's vocals grow deeply soulful on the final track, Ganesh Vandana.
To say that Kaushiki is a darling of the music press would be an understatement. She has certainly won over my heart with her sublime vocals. And no doubt, with one listen to this disc, she'll be engaging other hearts as well.
Buy Kaushiki
Author:
PatriciaHerlevi
Patricia Herlevi is a former music journalist turned music researcher. She is especially interested in raising music consciousness. She is looking for an agent and publisher for her book Whole Music (Soul Food for the Mind Body Spirit). She founded and hosts the blog
The Whole Music Experience and has contributed to World Music Central since 2003.