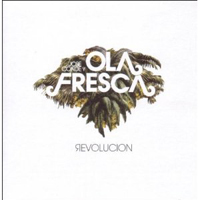 Jose Conde y Ola Fresca
Revolucion (Pipiki Records/Mr Bongo MRBCD054, 2007)
Like any genre, Latin music has fallen into its share of formulaic ruts. But you'd never know it from this smashing CD, a mix of grooves, styles and attitudes that doesn't ring false for so much as one second. Jose Conde (a new artist to me) is Brooklyn-based after having lived in Chicago, Miami and Boston, where he was schooled in music at Berklee.
If a background like that suggests he's soaked up a lot of influences, well, you have no clue until you hear him and his multi-ethnic band Ola Fresca rip it up on Revolucion.
Following a brief (too brief to my ears) batá drums-and-chant intro, the album sizzles, sweats and seduces its way through funked-up Cuban and Puerto Rican romps ("Ritmo Y Sabor," "Cafe Con Sangre"), mambo laced with New Orleans second line and a dash of psychedelia ("Oshiri Pan Pan"), Latinized Haitian compas in both French and Spanish ("Pititi Y Titi"), a reggae/cumbia fusion as slinky as any done by such West Coast outfits as Quinto Sol or Ozomatli ("Probando Nuevos Sabores") and respectful nods toward classic salsa, Latin jazz and descarga (jam session) styles.
Were it not for Conde's vocals, which are a perfect blend of raw and melodic that bounces off some very infectious coros, you might think you were listening to a various-artists Latin music sampler. Get this disc. You'll love it.
Buy Revolucion.
Author:
Tom Orr
Tom Orr is a California-based writer whose talent and mental stability are of an equally questionable nature. His hobbies include ignoring trends, striking dramatic poses in front of his ever-tolerant wife and watching helplessly as his kids surpass him in all desirable traits.