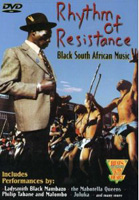 Rhythm of Resistance – Black South African Music (Digital Classics DVD DC 10022, 2007)
First seen in 1979 and now re-released by UK-based Digital Classics, Rhythm of Resistance remains an essential, powerful document of how necessary a role music played in sustaining the everyday lives of South Africa's black majority during the dark times of apartheid.
Filmmaker Jeremy Marre, while constantly trying to evade the presence of the South African police who shadowed his every move, captured scenes that would be comic in their absurdity if the reality of them weren't so tragic. We see the anally exacting lengths that white overseers went to in censoring music thought to be rebellious in nature. We see Zulu culture celebrated covertly due to its public suppression. We see the singing duo of Johnny Clegg and Sipho MChunu (who later formed the nucleus of the groundbreaking band Juluka) raising eyebrows simply because one of them is white and the other black. And in one surreal sequence that's alone worth the price of the DVD, we see a bewildered-looking white man, chosen off the street for his supposed impartiality, judging a secret all-night singing contest inside a black worker's hostel.
It's not all irony, though. The sheer diversity of South African music is examined as well, from the Venda drum-powered sound Philip Tabane and Malombo to the stomping mbaqanga of the Mahotella Queens and the a capella singing of Ladysmith Black Mambazo a few years before their rise to international stardom.
While some might dismiss this fine film as a museum piece depicting a bygone era, its relevance extends beyond time and place. We live in a world still rife with oppression and suffering, and music will always be both a balm to soothe those who suffer and a weapon to combat those who unjustly wield political, financial or religious power.
Buy Rhythm of Resistance (NTSC system DVD).
Author:
Tom Orr
Tom Orr is a California-based writer whose talent and mental stability are of an equally questionable nature. His hobbies include ignoring trends, striking dramatic poses in front of his ever-tolerant wife and watching helplessly as his kids surpass him in all desirable traits.