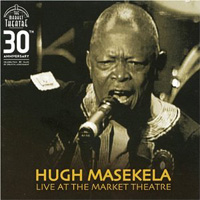 Hugh Masekela
Live at the Market Theatre (Times Square Records/Four Quarters FQT-CD-1805, 2007)
My task here is made immeasurably easier by the fact that Hugh Masekela needs no introduction. His distinctive flugelhorn, vocal and composing skills and knack for combining African, jazz and pop elements have long since assured his status as a world music legend.
He's one of the old guard of South African music, a source of strength and inspiration through the vile apartheid regime and beyond. It seems perfectly fitting, then, that Masekela should be among those helping to celebrate the 30th anniversary of the Market Theatre, a South African cultural institution where many of the country's great playwrights and actors presented subversive, liberation-minded works that paralleled the efforts of their music-making peers.
Joined on this double CD set by a crackling group of veteran players, Masekela blazes, simmers, swings and scats through some of his greatest works. Classics like "District Six," "Stimela," "Uptownship" and "Mandela (Bring Him Back Home)" sound as great as ever, due in no small part to the way Masekela and his troop take the originals in directions that maximize rhythm and melody and allow the band to stretch out.
Even that old chestnut "Grazing in the Grass" clocks in at over 14 minutes. Plus the cover versions, including Fela Kuti's "Lady" and Orlando Julius Ekemode's "Ashiko" percolate with the same kind of excellence.
After decades as a musician, activist and all-around icon, Masekela still packs a punch like no other. These two discs feature him giving his all on his native soul and are powerful at every turn.
Buy Live at the Market Theatre.
Author:
Tom Orr
Tom Orr is a California-based writer whose talent and mental stability are of an equally questionable nature. His hobbies include ignoring trends, striking dramatic poses in front of his ever-tolerant wife and watching helplessly as his kids surpass him in all desirable traits.