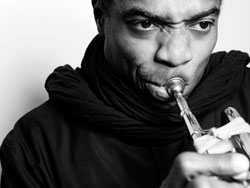 National Public Radio (NPR) Music's concert series continues with three live, online concerts. NPR Music All Songs Considered's Bob Boilen hosts the online concerts: July 13 – Femi Kuti; July 16 – Travis; July 18 – Gogol Bordello. All concerts begin at approximately 8:00 pm ET. (The times are subject to change). The concerts will be carried live from Washington, D.C.'s renowned 9:30 Club, and archived at www.NPR.org/liveconcerts

Nigeria's Femi Kuti is part of a musical legacy. As the oldest son of Afro-beat pioneer Fela Anikulapo-Kuti, he carries on the sound his father started, adding his own innovations to the mix of Nigerian drum patterns, horns, funk, soul, and R&B. Like his father, Kuti does not shy away from including messages about government corruption, poverty, and injustice in his lyrics. He spoke about his music and activism in 2005 on NPR's newsmagazine Day to Day: www.npr.org/templates/story/story.php?storyId=4776842.Scottish rock band Travis broke onto the U.K., and later U.S., pop scenes in the late-1990s with the catchy hits "All I Want to Do is Rock," "Turn," and "Why Does it Always Rain on Me?." After a few years out of the limelight, the group of four has returned with their latest release, The Boy With No Name.

Gogol Bordello mixes punk, ska and jazz with traditional Roma music of the Ukraine, where the group's frontman Eugene Hutz grew up. Hutz and his fellow multinational band members have dubbed their sound "Gypsy punk," and gained critical acclaim for their wild and theatrical performances. The group visited NPR's Studio 4A for a performance-chat in 2006: http://www.npr.org/templates/story/story.php?storyId=5371385.

NPR Music's hit audio webcasts, produced by the popular music program All Songs Considered, launched in January 2005 and have featured more than 120 live events to date. The concerts have showcased an eclectic group of performers, including Björk, The Decemberists, The Arcade Fire, Nellie McKay, The White Stripes, Ray Lamontagne, James Brown, Iggy Pop and the Stooges and Lucinda Williams, among many others. For information about these shows and to hear archived concerts, visit www.NPR.org/liveconcerts.

On air and online, NPR Music features reports, interviews and performances by outstanding artists in all music genres. The top-rated weekly program All Songs Considered, which is now available for broadcast as well as online and as a podcast, offers an eclectic music mix and has featured such celebrity guest DJs as Lily Allen, Conor Oberst, and film director John Waters. The podcast "Open Mic" features a wide-ranging mix of independent, unsigned or self-produced artists. The NPR.org Podcast Directory includes more than 45 music-related titles produced by NPR and Member stations from around the country: www.NPR.org/podcasts.
Author:
World Music Central News Department
World music news from the editors at World Music Central