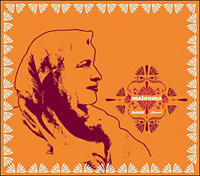 Malouma
Nour (Marabi 46819.2, 2007)
Mauritania lies at the western edge of the Sahara Desert and the Islamic world. It was a French colony until 1960, underwent a military takeover in 1978 and has had tense border disputes with neighboring Senegal as well as strife between native Moorish and black populations.
The country has only recently had their first democratic elections, ushering in what many hope will be a new, better era. Malouma Mint Moktar Ould Meidah is one of a very few Mauritanian musicians known internationally, and she hasn't had an easy go of it. She's flown in the face of tradition by singing about such prickly topics as divorce, female sensuality and ethnic reconciliation, making her a thorn in the side of Muslim fundamentalists and government officials.
In spite of the odds she's become not only an acclaimed performer but a member of Mauritania's senate as well. Her last album, 2003's Dunya, was a terrific slice of Saharan blues laced with equal parts Arabic inflections and Francophone Afropop. Nour, her latest, takes a different approach.
Malouma's toughened up in the last few years and her music has too. She still plays the ardin (a ten-stringed Moorish harp) and sings in urgent, sometimes wailing tones reflective of her griot upbringing. But a pronounced modern sheen has been added to the rippling guitar and keyboard accents, bumpity percussion and female backup choruses that also mark her sound, making this release more a straddling of the old and new.
Among the collaborators in on this smartly realized balancing act is Smadj, a Tunisian 'ud player and programmer who's applied his progressive touch to many a recording from the North African/Middle Eastern realm recently.
Songs like the tightly wound "Kentawiyate," the unapologetic blues of "Yarab" and the reggae-ish "Casablanca" fairly overflow with melodic richness and contemporary vision. "Nnew" benefits from a distinct Gnawa feel and both "Nebine" and the a capella title track call out for peace and unity from a Muslim perspective that may fall on many a deaf ear but has never been more necessary.
Maximum respect to Malouma and all involved for making this bold and beautiful disc.
Buy Nour.
Author:
Tom Orr
Tom Orr is a California-based writer whose talent and mental stability are of an equally questionable nature. His hobbies include ignoring trends, striking dramatic poses in front of his ever-tolerant wife and watching helplessly as his kids surpass him in all desirable traits.