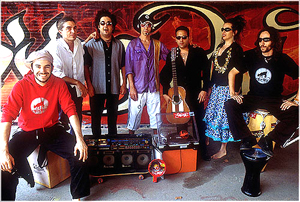 "This is not just world music. This is a whole universe of music." Thus spoke Derek Rath, host of "The Cosmic Barrio" on KPFK FM in Los Angeles. He did so in introducing Spain's Ojos de Brujo, the band that a large outdoor crowd had come to see smack dab in the middle of downtown L.A.
Rath was absolutely right, of course, and neither having heard Ojos de Brujo's music nor seeing their in-concert DVD Touring Barí prepared me for the excitement of experiencing them truly live and in person.
Their stage show was an ecstatic fever dream of nuevo flamenco mixed with sights (rear screen projections, superb dancing, boundless ensemble energy, dazzling lights) and sounds (Latin, Arabic, hip-hop, Indian, funk, dub) that were never less than riveting.
This is not a band that's about gimmicks, but a band that's about a seamless fusion which thrills on both sonic and visual levels. Lead singer Marina Abad, equal parts Gypsy sorceress and fiery songstress, was clearly the main focus, though the jaw-dropping skills of every member shone brightly.
Guitarists Ramón Giménez and Paco Lomena absolutely blazed on their acoustic axes, percussionist Max Wright launched into several sections of hyper-speed vocal scatting that you wouldn't believe humanly possible if you weren't seeing it live, conga/cajon player Xavi Turull also applied a masterful touch to the Indian tabla, drummer Sergio Ramos and bassist Javi Martin navigated the constantly shifting rhythms with split-second precision, DJ Panko's turntable and keyboard accents added colorful jolts at every turn, dancer Sonia Poveda executed deftly expressive footwork and a guest trumpeter whose name escaped me stepped out for a few warm and wonderful solos.
The music soared with an abandon that was ever joyous but never reckless. Anytime it seemed things were about to fly off the handle into chaos, the band would suddenly be grooving on the same page once again. As memorable as Ojos de Brujo are on disc, that unforgettable quality was multiplied manifold here. This will surely stand as one of the best concerts I've ever seen. And it was free.
Every summer Los Angeles' California Plaza presents Grand Performances, a series of terrific no-cost events that unfailingly include choice offerings for global music fans.I plan to be front and center for Andy Palacio and the Garifuna Collective, bringing their Afro-Belizean sound to the Plaza on August 4th. For more info on the series, check www.grandperformances.org.
Buy the group's latest CD, Techarí.
Author:
Tom Orr
Tom Orr is a California-based writer whose talent and mental stability are of an equally questionable nature. His hobbies include ignoring trends, striking dramatic poses in front of his ever-tolerant wife and watching helplessly as his kids surpass him in all desirable traits.