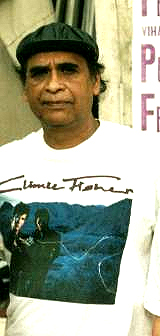 Westminster, UK – The British Prime Minister-in-waiting Gordon Brown; the Leader of the Opposition, David Cameron; and Liberal Democrat Leader, Menzies (Ming) Campbell, have all been given a copy of the Nimal Mendis' song for autism called 'Open Every Door' by Ivan Corea, of the Autism Awareness Campaign UK.
The Asian superstar, Nimal Mendis has created history by being the first South Asian singer/songwriter ever to have written a song for autism. This is also the first time that a song for autism has been handed over to Britain's top political leaders.
Autism is a neuro-developmental disorder, according to UK researchers 1 in 100 children may have autism. According to the CDC 1 in 150 children in the United States are on the autism spectrum. An estimated 60 million people around the world have autism spectrum disorder. Mendis lives in the UK and they say that 587,900 Britons are on the spectrum.
The award winning singer/songwriter Nimal Mendis was born in Sri Lanka where an estimated 39,000 people have autism. Mendis was inspired by the Autism Awareness Campaign UK to write this moving song about a child with autism. He hopes that 'Open Every Door' will raise awareness about the condition not only in the United Kingdom but also around the world.
He urged Gordon Brown, David Cameron and Menzies Campbell to reach out to parents, carers and people with autism in the UK and support them. Nimal Mendis has joined a chorus of British musicians calling on the soon to be Prime Minister Gordon Brown to launch a national strategy on autism and a 10 year plan of action.
Nimal Mendis has written many songs for the Asian Cinema, his composition, 'Master Sir' is now a classic in South Asia. He recorded 22 songs, eight of his songs were recorded on the Decca label in London.
In 1968 he made his debut on the highly acclaimed 'Top of the Pops' on BBC Television singing his composition, 'Feel like a Clown' with Sandra Edema. It was one of those rare occasions in the 1960s when Asian pop singers were featured on 'Top of the Pops.' They were also featured with the song on Beat Club in Germany that year. BBC radio and other European radio stations have aired his songs.
When Nimal Mendis composed a song about the tsunami in Sri Lanka in December 2004, former US President Bill Clinton wrote to him after listening to 'Tsunami.' Mendis is hoping that his composition will raise funds for the registered British charity Autism Speaks (UK) chaired by the highly respected Stephanie Shirley, a prominent businesswoman and autism campaigner.
Autism Speaks is involved in ground breaking research – 50% of every download will be donated to Autism Speaks (UK).
For further information on 'Open Every Door,' access the web page: mediaeyeproductions.com/downloads.html