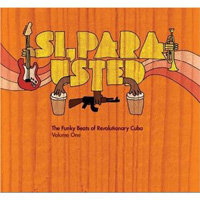 Sí, Para Usted – The Funky Beats of Revolutionary Cuba Volume One (Waxing Deep Records WAX002, 2006)
Sure, the whole Buena Vista Social Club phenomenon boosted worldwide interest in Cuban music. Perhaps better still, it led to increased curiosity as to what was going on musically in Cuba during those most closed-off Castro years when Cuba was widely considered a sworn enemy.< There's a generous dollop of that mysterious music on Sí, Para Usted , suitably subtitled The Funky Beats of Revolutionary Cuba.
Perhaps truly fueled by anti-capitalist feelings but more likely by a state-run recording industry that allowed the most talented and innovative musicians to stand out (even in a country that's never had a shortage of them), Cuban popular music of the '70s was fiery enough to overcome the most despotic political atmosphere.
Similar to the mashup of tradition with funk, soul, rock and psychedelia that was going on in such places as Africa and Brazil, Cuban musicians were putting new swagger into old rhythms with delightfully subversive results.
a href="http://www.amazon.com/gp/product/B000O76DC8/002-0680210-1555269?ie=UTF8&tag=musidelmund-20&linkCode=xm2&camp=1789&creativeASIN=B000O76DC8″> Sí, Para Usted begins with "Son a Propulsion," an instrumental by Juan Pablo Torres, whose longstanding experimental leanings infuse the track's mingling of funk and fuzz guitar.
Next up are Irakere and Los Van Van, showing how brilliantly those bands, even in their early stages, modernized Cuban music without compromising or softening it.
Delights from names less familiar outside Cuba also abound: the stairstepping harmonies and brightly clattering rhythms of Ricardo Eddy Martinez's "Tambo Iya" thrill as deeply as the bass-heavy, rock guitar-laced tones of Los 5-U-4's "Baila, Ven Y Baila" and the shadowy jazz riffing and spectral voices weaving throughout Grupo Los Yoyi's "El Fino."
Traditional styles like son, rumba and charanga are the foundations, but it's what's built upon them that's truly marvelous, up to and including the Middle Eastern trippiness of "Casina y Epidecus" by Mirtha y Raul.
A lot of these songs remind me of the 1991 David Byrne-compiled collection Dancing With the Enemy, which likewise did much for Cuban music's edgier side.
No offense to the Buena Vista crowd (I love that stuff too), but you're missing the bigger sonic picture of Cuba if you let this fantastic CD pass you by.
Buy Sí, Para Usted.
Author:
Tom Orr
Tom Orr is a California-based writer whose talent and mental stability are of an equally questionable nature. His hobbies include ignoring trends, striking dramatic poses in front of his ever-tolerant wife and watching helplessly as his kids surpass him in all desirable traits.