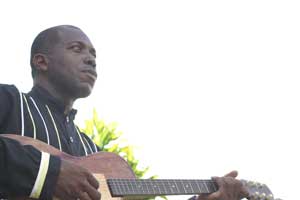 New York ( NY), USA – Belize's most popular performing artist and cultural preservationist, Andy Palacio brings the songs of the Garifuna to New York. The Garifuna are a unique culture based on the Caribbean coast of Central America that blends elements of West African and Native Caribbean heritage.

Andy's musical prowess and dedication to Garifuna culture has earned him international popularity and acclaim, receiving rave reviews from publications and websites from around the world and being featured on NPR's All Things Considered. He's also received endorsements from some unlikely colleagues, like The Roots drummer Questlove and British DJ Fatboy Slim who offered to remix some tracks from Andy Palacio & Garifuna Collective's new album, Watina. Fatboy Slim also collaborated with Andy on 3 tracks for his own upcoming release.Garifuna music has a deeply African flavor and is played with traditional turtle shell percussion, gourd rattles and wooden drums, as well as contemporary instruments. The language of Garifuna, in which Palacio sings, is a mixture of Spanish, French, and West African and Carib languages.
The Garifuna people originated when two large ships, filled with a delivery of West African slaves, sunk off the coast of the Caribbean island of St. Vincent in 1635. Half of the Africans survived and intermingled with the indigenous Caribs of the region, creating a new hybrid culture.
Andy Palacio is the chief ambassador of both Garifuna music and culture and on Thursday June 28th, he brings the sounds of Garifuna to downtown Manhattan on the legendary S.O.B.'s stage.
Buy Watina.
Author:
World Music Central News Department
World music news from the editors at World Music Central