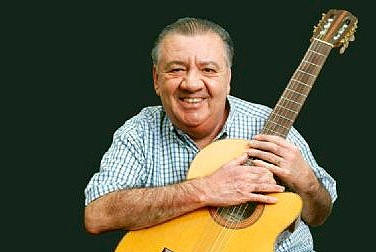 One of the most important Argentine guitarists in recent times, Cacho Torao, died May 30 in Buenos Aires, Argentina. Tirao had been seriously ill for the last seven years, after he collapsed while on stage in 2000. He had been showing signs of recovery in recent weeks and four months ago he recorded an album with his daughter.
He was born April 5, 1941, in Berazategui (Buenos Aires),and began playing guitar when he was only 6 years old. Caho Tirao won his first award at age 7. At 16 he became a soloist with the Teatro Argentino de La Plata orchestra.
Cacho Tirao was a member of Quinteto de Astor Piazzolla for several years. Encouraged by Piazzolla, he initiated a solo career, recording several album, which included a collaboration with legendary Flamenco guitarist Paco de Lucía.
Cacho Tirao participated in numerous classical music, Argentine folk, pop and tango recordings and accompanied well known artists, such as George Maharis, Raphael, Josephine Baker, and the 'Misa Criolla' concerts.
In 1985 he composed a guitar symphony titled Conciertango Buenos Aires. Ten years later, "La guitarra argentina" came out. The album featured Julio Pane, Mauricio Marcelli, Julián Vatenberg, Domingo Cura, Juan Falú, el Dúo Labanca-Zamora, Martín Lorenzo, Alejandro Bruschini, Diego Rivas, Eduardo Bereardi and singers Juan Martín Cámera and Alejandra Tirao. The selection included tango, milonga, zamba and chacarera.
At the end of 2006, Cacho Tirao recorded his last album, Renacer, which was released in January 2007. The album included original material, including "Teresa, mi renacer", dedicated to his wife. His daughter Alejandra participated on vocals.
Author:
World Music Central News Department
World music news from the editors at World Music Central