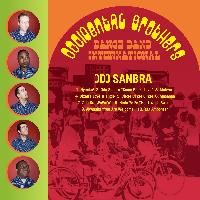 Occidental Brothers Dance Band International (Self-Released, 2006)
You could easily believe the tracks on this very sharp CD were recorded in Kinshasa or Accra years ago rather than quite recently in Chicago. Led by guitarist Nathaniel Braddock, who plays and teaches extensively in the Midwest metropolis, Occidental Brothers Dance Band International offer up simply stunning instrumentals recalling the golden ages of rumba, highlife and other African styles.
The music is raw and stripped down, with Braddock's guitar and Greg Ward's alto sax colored and seasoned by Kyle Hernandez on upright bass, George Lawler on congas and Greg Lundberg and Antonio Carella on small percussion.
That sparseness allows the music's inner jazz, Latin, folkloric and traditional nuances to shine brightly and makes these tunes (from the repertoires of such greats as Franco) as lovingly authentic a paean to classic African music as you'll ever hear.
Running at just over 30 minutes, the disc wastes not a second but gets right down to a beautifully swinging jam session that's all grit and no gloss. This being only a small taste, I'm already hungry for more of these guys.
Having now added Ghanaian trumpeter/vocalist Kofi Cromwell to their lineup, they've clearly got more great sounds to come. Meanwhile, get this and play it repeatedly.
Available from www.occidentalbrothers.com.
Author:
Tom Orr
Tom Orr is a California-based writer whose talent and mental stability are of an equally questionable nature. His hobbies include ignoring trends, striking dramatic poses in front of his ever-tolerant wife and watching helplessly as his kids surpass him in all desirable traits.