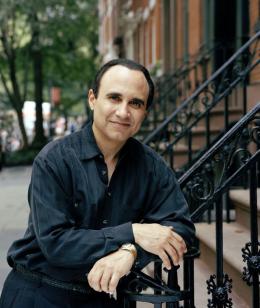 Pianist Michel Camilo, whose career spans three decades, two hemispheres and a range of jazz, Flamenco and classical styles, understands the importance of living in the moment. Since joining the Telarc label with the 2001 release of Triángulo , he has crafted brilliant recordings in the trio, solo and orchestral settings. Each of them has captured the essence and spirit of this ever evolving artist at various points along his creative journey.
Following up on the very intimate Solo in 2004, the adventurous Rhapsody in Blue in 2006, and his second collaboration, Spain Again, with Spanish Flamenco guitar master Tomatito, Camilo makes his return to the straightahead jazz trio setting with the release of Spirit of the Moment – an album that expands on the energy and innovation of his GRAMMY winning 2003 opus, Live at the Blue Note."Live at the Blue Note was the climax of twenty years of honing my trio sound and developing a very distinct style," says Camilo. "After that, I felt like I could let the trio rest and be refreshed. I could do other things and explore other territories."
Nearly four years after Live at the Blue Note, Camilo regards Spirit of the Moment as an equally important recording. "This album, for me, is a milestone," he says. "I believe it is a classic. After all of these other projects and experiences in the past few years, I'm able to refresh and redefine my trio sound."
Recorded live to two-track and surround by Telarc recording engineer Robert Friedrich, Spirit of the Moment brings with it a new face in the Camilo trio roster, as drummer Dafnis Prieto replaces Horacio "El Negro" Hernández. "Dafnis is in a very tough spot," says Camilo. "The drum chair in my trio has a prestigious history to it. It's a coveted chair, and I've always had to pick and choose very carefully when searching for a new drummer. He has to be someone who is versatile in so many styles." Prieto merges seamlessly with bassist Charles Flores, whose five-year tenure with the trio has given rise to what Camilo calls "a special chemistry."
In keeping with Camilo's personal philosophy about the universality of the number three, Spirit of the Moment is divided into three distinct chapters, each one consisting of four tunes. The opening chapter consists entirely of original material, beginning with "Just Now," a marriage of New Orleans and Caribbean styles that sets the tone for an album rich with musical and cultural styles and shades. The heartfelt "My Secret Place" is one of two finely crafted ballads on the recording, serving as a sort of counterbalance to "A Place in Time," which appears much later in the sequence.
"It's not a coincidence that the titles of these two ballads are so similar," says Camilo. "They're related to each other, but they're told from different points of view and different melodies, of course. Each song, at its center, lingers in the same key of A minor."
Wayne Shorter's classic "Nefertiti," infused here with a decidedly Afro-Cuban sensibility, opens the second chapter, a four-song block that includes two other standards, a flamenco-shaded reading of Bill Evans' "Nardis" and an alternately deconstructive and reconstructive take on Coltrane's "Giant Steps."
The final chapter, which opens with the aforementioned "A Place in Time," gives way to the progressive and challenging time signatures of "Hurry Up and Wait" and the floating gait of "Liquid Crystal."
The closing track, a mystical sounding rendition of Miles Davis' "Solar" – listed on this recording with the modified title of "Solar (Explorations)" – is actually an opener in many respects. "We never really play the song itself," says Camilo. "We just explore the inner parts of the song, each in our own way. It's a collective improvisation. The last chapter of the record opens possibilities. At the end of the album, when everything is said and done, 'Solar (Explorations)' is a way of saying 'To be continued…'"
The eight original tracks were written in eight days, says Camilo, and most of what made the final cut were first takes. "It was unbelievable," he says. "I just sat down and wrote all this music in a short time. It just flowed out of me. And yet, great care was taken with the details and the various textures. The more you listen, the more you will discover how deep this album is."
Performers on the album: Michel Camilo – piano; Charles Flores — bass; Dafnis Prieto — drums
Buy Spirit of the Moment.
Author:
World Music Central News Department
World music news from the editors at World Music Central