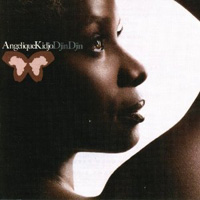 Angelique Kidjo
Djin Djin (Razor and Tie/Starbucks Entertainment 7930182967-2, 2007)
Albums featuring an array of guest stars are certainly nothing new in mainstream pop music, and they're not unheard of in African music either (look no further than Manu Dibango's Wakafrika if you need an example). Despite having made many great albums without much outside help, Benin's Angelique Kidjo brings in some heavy hitters on Djin Djin.
They range from artists with whom I'm well familiar (Carlos Santana, Amadou & Mariam, Ziggy Marley, Peter Gabriel) to artists with whom I'm only passingly familiar (Branford Marsalis, Alicia Keys, Joss Stone) and one I know of in name only (Josh Groban). Put such a roster together with the fact that world-domination-via-coffee behemoth Starbucks had a hand in the release, and the disc might just as well have "crossover" indelibly stamped on it.
Thankfully, the reality is a good deal better than that. Despite a few missteps, Djin Djin is an often-great addition to Kidjo's body of work. After "Ae Ae," an Afro-Latin pleaser of the highest order, the collaborations kick in on tracks 2 thru 7.
The title piece, a sweet Afropop shuffle, has Keys and Kidjo trading off with infectious joy and the songs featuring Gabriel, Amadou & Mariam and Marley- "Salala," "Senamou" and "Sedjedo" respectively -are soulfully elegant tracks that could rest easily in the guest artists' own repertoires.
Less successful are two cover versions: The Rolling Stones "Gimmie Shelter," on which Kidjo and Stone replace the ominous tone of the original with a mere sass that's lacking, and Sade's "Pearls," brought close to an incurable case of power ballad-itis through Groban's technically perfect but toothless vocals (mercifully offset by Kidjo's more genuine tones and Santana's pensively soaring guitar).
And the rest of the album? It's Kidjo at her original, versatile best, including the punchy "Papa" funked out with help from the horn section of Afrobeat masters Antibalas, the Arabic-accented reggae of "Arouna" and "Lonlon," a clever rethinking of Maurice Ravel's "Bolero." Fans of Kidjo's previous efforts will rejoice, and those attracted by the guest names on the cover will get a tasty helping of African sounds to wash down with their Starbucks coffee.
Buy Djin Djin.
Author:
Tom Orr
Tom Orr is a California-based writer whose talent and mental stability are of an equally questionable nature. His hobbies include ignoring trends, striking dramatic poses in front of his ever-tolerant wife and watching helplessly as his kids surpass him in all desirable traits.