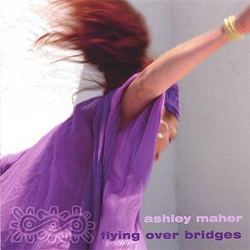 Spin Wild Records announced the release of "Flying Over Bridges", the fourth album by veteran world music/folk/jazz singer-composer-bandleader Ashley Maher. Recorded in Los Angeles, it showcases the diverse experiences and warm, wise and wryly optimistic observations of a woman whose personal musical vocabulary seamlessly incorporates influences from West Africa, American and Latin pop, folkloric sources and jazz.
Ashley's vocal style, with its rhythmic precision, unfettered elegance and free-form ornamentation, has garnered comparisons with Joni Mitchell and Tracy Chapman, both fiercely original singer-composers with an eclectic viewpoint and a gift for story-telling. There have also been references to her sexy swing which, to some reviewers, recalls British-Nigerian soul-swoon diva, Sade. But her bone-deep attraction to Senegalese music and other international grooves has led her to pursue a direction all her own.Her first three albums, "hi" (1990 – Virgin UK), "Pomegranate" (1992 – Virgin UK),"The Blessed Rain" (1997 – Spin Wild) heralded the arrival of an extraordinary talent and the press duly sat up and took notice.
Over the years, Ashley has also become an expert sabar and jembe dancer who has performed with several West African troupes. She has recorded with UK-based world-techno outfit, Afro Celt Sound System and sung back-up for Senegalese superstar Youssou N'Dour. Ashley and her band have opened for the Senegalese icon, Baaba Maal, Euro-African a cappella group Zap Mama, rising South African vocalist Vusi Mahlasela and Malian singer/activist Salif Keita. She co-wrote the first track, "Boul Bayekou" on Youssou NDour's new Senegalese release, "Alsaama day."
The present album was produced by Andre Manga, a Cameroonian-born bassist-keyboardist-composer-arranger who has worked with such African luminaries as Manu Dibango, Pierre Akendengue and Hilarion Ngeuma, plus Jean Claude Naimro of the popular Antillean group, Kassav. He also assembled a team of musicians from his homeland for Paul Simon's "Rhythm Of The Saints" album and now fronts his own band as a solo artist.
Aside from Andre on bass, the rest of Ashley's intuitive back-up team consists of Vinnie Coliauta (USA – trap drums), Otmaro Ruiz (Venezuela – piano), Federico Ramos (Uruguay – guitar), Aziz Faye (Senegal – sabar drums), Jason Hann (USA – percussion), Karen Briggs (USA – violin), Roberto Montero (Brazil – guitar), Kevin Armstrong (UK – guitar), Hans Zermuehlen (USA – keyboards) and Lambert Moss (USA – vocals).
Although Ashley was born in Canada, lived for twelve years in the UK and now resides with her family in California, her music continually circles back to the human race's shared ancestral ties to Africa. Whether singing about childhood memories of Montreal, her late mother's unflagging courage in the face of terminal illness, a Japanese friend's passion for Senegalese dance, an immigrant taxi driver navigating New York City's busy streets, or the joys of family life, she never fails to touch that proud, bittersweet and ever-evolving universal chord.
Author:
World Music Central News Department
World music news from the editors at World Music Central