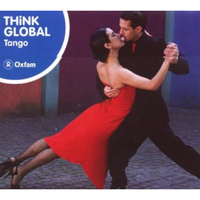 San Francisco (California), USA – Think Global: Tango (THINK103CD, 2007) demonstrates the truly global nature of the style, arising from many encounters between migrants and migrating dance rhythms since its birth in the Buenos Aires slums in the 1880s.
This 15-track CD includes both reinterpretations of classic songs, and modern material that has come about since the emergence of bands like the Gotan Project. To understand and enjoy Tango, prepare to experience a rollercoaster of emotions, from passion, desire and elation, to desperation, solitude and despair.
Stand-out tracks include 'Leonel el Feo' ('Ugly Lionel'), where Daniel Melingo lends a dark twist to the song, giving a Lou Reed-like narrative about a small time hood and his delusions of grandeur.
The beautiful 'Oblivion', written by Astor Piazolla, and sung by Beatriz Suárez Paz, with Fernando Suárez Paz on violin, is tango searching for the agonizing heart of love.
Other outstanding musicians include Osvaldo Montes Y Anibal Arias ('Milonga De Mis Amores'), Horacio Molina ('Jacinto Chiclana') and Gustavo Beytelmann ('Corraler'). Carlos Libedinsky's music can be seen as a truly Argentinian version of tango electronica, and his 'Tres Son Multitud' is gloomy, cool and rhythmically interesting.
Other notable electronic tracks include Otros Aires' 'La Pampa Seca', Tanghetto's 'Una Llamada' and Electronic Tango Group's 'Fugaz'.
Think Global: Tango has been produced in collaboration with Oxfam, with sales from the album raising money for the independent organization and registered charity. They work at all levels from global to local, including international governments, global institutions as well as with local communities and individuals to ensure that everyone's rights are fulfilled and protected.
Think Global is the new label from World Music Network that combines the ideals of reducing poverty and defending human rights with superb collections of cutting edge music from around the world. Produced in association with, and raising money for Amnesty International and Oxfam, all Think Global releases use recyclable card with no plastic tray.
Buy Think Global: Tango.
Author:
World Music Central News Department
World music news from the editors at World Music Central