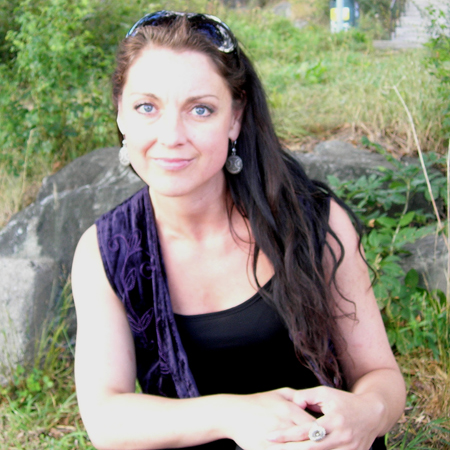 Hungarian singer Andrea Gerak and Spanish composer Angel Oros (also known as Cambridge 2003) presented a song originally from Oceania, the famous Rorogwela.
The melody was made well known in Sweet Lullaby, the probably most recognized song of Deep Forest, which counts as a groundbreaking piece within the World Music genre, and is a widely adored success track, since 15 years. Their first version was followed by several remixes and Jan Garbarek also fell in love with the theme and made a jazzy saxophone piece out of it, the Pygmy Lullaby. Through the years, other musicians also arranged this song, but interestingly enough, no new vocal recordings can be found. This was the challenge for Andrea Gerak when picking up this particular song. She got the final inspiration kick from the album that came out just a few weeks ago: Deep Forest "Sweet Lullaby" Remixed by Toronto based Existence Records, which approaches the song from 16 different facets of techno, presenting new moods in each.The question was given: can something new still be done with this theme? First of all, as lyrics of the original Rorogwela recording were not available, Andrea listened to the authentic singing of a late Baegu woman called Afunakwa, and wrote down the text, reconstructing it syllable by syllable, which is a great contribution to preserving a treasure of world traditions.
With her enchanting singing, Andrea Gerak lived up to the challenge, as well as Cambridge 2003 who, in his New Age, sound track and electronica works is always trying to respect and convey the feeling of the subject. So did he very well in two versions of the song.
The Rorogwela Blue Beach mix is more exotic and epic, it is based on the text of the song. It has the pathos and respect towards the deceased father of the children, and another source of inspiration was Whale Rider by Lisa Gerrard. Spicing it up with a few tunes from Eastern-Europe makes it even better connected to the globe.
The Rorogwela Sunset mix is sweeter and lighter, and is more based on the delicacy of Andrea Gerak's singing. One feels the sweetness and sensuality of the islands of Oceania in a well-balanced track.
Uniting the special sensitivity of Andrea Gerak's vocals and the knowledge and creativity of Cambridge 2003, the result is a creditable tribute to a pearl from the people of Solomon Islands.
The theme is a traditional Baegu song from Malaita (Solomon Islands), sung by Afunakwa, recorded by Hugo Zemp in 1968, released on the Fataleka and Baegu Music of Malaita CD by UNESCO. Arrangement, all instruments: Angel Oros (Cambridge 2003).
Vocals: Andrea Gerak.