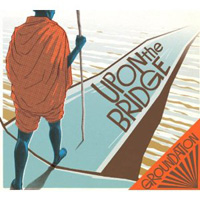 Groundation
Upon the Bridge (Young Tree Records YTR-1230CD, 2006)
Remember concept albums? Well, Northern California reggae band Groundation apparently does, and they've made a very good one here, whether you choose to wrap your mind around the concept or not.
Upon the Bridge is the album title as well as the title of a short story contained in the CD booklet. It tells of a man who crosses a bridge, a Rubicon of sorts, leaving the familiar behind him in his search for greater meaning. He encounters sagely characters and supernatural occurrences along the way, pressing on despite obstacles and conundrum-like situations, finally reaching the other side only to realize there is much searching yet to come.
It's a nicely prosaic tale, but on this, Groundation's fifth album, it's the music that matters most. Throbbing reggae arrangements with subtle twists and jazzy instrumental coloring remain the band's trademark along with singer/guitarist Harrison Stafford's authoritarian growl punctuating the lyrics in a take-heed manner.
Groundation has always been about atmosphere as much as groove, here exemplified by moments like the somber melodica intro to "Nonbeliever" and the dual aggressive/reflective tone of "Down," "Used to Laugh," and "Mighty Souls."
The second half of the disc features some interwoven guest vocals by Jamaican vets Ijahman Levi and Pablo Moses, continuing Groundation's knack for bringing in great voices from reggae's homeland to enrich their already exceptional sound. Moody, musically solid and likely to please both traditionally and progressively-minded reggaelisteners, Upon the Bridge is one to span repeatedly.
Buy Upon the Bridge.
Author:
Tom Orr
Tom Orr is a California-based writer whose talent and mental stability are of an equally questionable nature. His hobbies include ignoring trends, striking dramatic poses in front of his ever-tolerant wife and watching helplessly as his kids surpass him in all desirable traits.