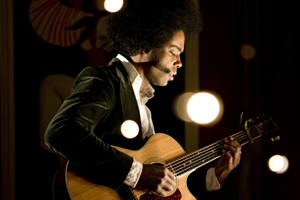 [Archival interview from WOMAD USA, 2001]
Although Morumba Cubana marks the Puentes Brothers' first North American release (the album was released by Toronto-based Alma Records), the non-identical twins Alexis and Adonis grew up playing rhythmically sophisticated "son" music of Cuba. Their father, renowned Cuban guitarist Valentin Puentes, gave Alexis clave lessons when most kids were just discovering thin crayons (age 4) and within a year, Alexis appeared along with his father's band on national television. Eventually Valentin taught both of his sons how to play guitar and as the boys grew into manhood they grew proficient on several instruments.
In 1995, the Puentes family toured across Canada with the release of a cassette called Los Puentes. Eventually, Adonis and Alexis settled in Victoria, formed Puentes Brothers and released their first album on Toronto's Alma Records. Many stellar musicians including ¡Cubanismo!'s Javier Zalba, Canadian jazz star Jane Burnett, Cuban music luminary Hilario Durán, bata master Pancho Quinto and legendary percussionist Horacio Hernandez appear on the Puentes Brothers' debut release.
The Puentes Brothers recently appeared at WOMAD USA at Redmond's (Washington) Marymoor Park on a damp and cold Saturday. However, it didn't take the enthusiastic WOMAD crowd long to fend off the cold as their hips swayed to the Puentes' infectious rhythms. Soon the atmosphere crackled with the sounds of timbales and congas while Adonis and Alexis's sensual vocals rode over the top of cacophony of luscious beats. The meadow near the stage erupted with an explosion of salsa dancing that nearly sent the gray clouds packing. But for that brief moment, the dancers had fallen under the spell of Havana.
Patty-Lynne Herlevi: Did you grow up in rural Cuba?
Alex Puentes: We grew up in a small town called Artemisa that is 60 km from the southwest of Havana. I love it there. I loved growing up there and being able to live our culture.
PLH: And when did you grow up there, the 1960's or the 70's?
AP: How old do you think I am?
PLH: You look really young.
AP: I'm 27.
PLH: So you grew up in the 70's.
AP: That's right, 1974.
PLH: Despite the troubled relations between the US and Cuba, did American pop music flow into Cuba and were you influenced by any of this music?
AP: It's always been there in Cuba, to be honest. American music, people love funk, people love blues and jazz. You know, it's always been there and on the other hand, we know how to play traditional Cuban music and how to keep our culture as full as possible. We have enough influence that the new generation of Cuban musicians (the one I belong to) that the music that we're playing is totally different. It's a fusion of jazz, blues and everything and we've made a new Cuban music.
PLH: So are the songs on your album completely original? How many songs on the album are traditional Cuban songs?
AP: We have ten original songs there from my brother and I then we added two covers.
PLH: And you played the Buena Vista Social Club's "El Cuarto de Tula" to an enthusiastic crowd here. In the documentary film Buena Vista Social Club the musicians talk about the disappearance of traditional Cuban music. But Cuban music didn't disappear in Cuba, but the US. Is that correct?
AP: That's right.
PLH: But thankfully, Ry Cooder went back and found all of those aging Cuban musicians who have been keeping the music alive in Cuba.
AP: Yeah, do you know that in 1959 we had a revolution there in Cuba. And since that happened, immediately the major record labels like RCA Victor (packed their bags). They were in Cuba but they left the country. And because of that we haven't had access to having a publisher around the world for our music. But the music has always been there. You can see us playing music, now more than ever. In Cuba there are more musicians then ever before. And I always like to say that Ry Cooder and Buena Vista Social Club is like opening doors. Even though our music has always been around now people are beginning to appreciate it more.
PLH: I read that Ibrahim Ferrer used to visit your household and jam with you and your brother. How did this come about?
AP: I need to explain how that happened. We grew up in a small town and right across the street was a club. And what happened is they used to have a Cuban night once a week and they hired different bands from all over the country. So every week we had a different band across the street and my brother and I went there to have fun and listen to the music. Sometimes it happened that people who were friends with the band such as Ibrahim Ferrer (he mentions other musicians as well) to mention one go there and we talked to him. And then they remember or we wouldn't appreciate him as much as we did. Definitely there was something beautiful behind the experience to meet those people. And it's something that we will always remember.
PLH: So when you meet these great Cuban performers is that the rock star equivalent in for young musicians in Cuba?
AP: In Cuba, you know everybody tries to have his own music. People like everybody having music here and someone to follow. (Noise from another performer interrupts the interview). That's what art is about.
PLH: Are you influenced by the older generation of Cuban musicians?
AP: Oh, for sure. All those guys are idols to us.
PLH: You now reside in Victoria, Canada. What attracted you to a city so rich in English traditions?
AP: Destiny. Life, you know destiny? No one knows what will happen to you in life and also it could be one's destiny to live down (it's actually up from Seattle) there in Victoria, BC. But the real thing is that we come from a small town in Cuba and we feel comfortable in Victoria. And not only that but people are available for conversation and we're able to connect. I love when I wake up in the morning and I know the guy who delivered the mail and I know my neighbors. So this is what I really love and this is why I live down there.
PLH: Is there a Hispanic population in Victoria?
AP: Yes, but very little.
PLH: Do you miss Cuban culture? Do you ever get homesick?
AP: I came to Canada. If I wanted to be more connected with my culture I would have stayed in Cuba or moved to a Latin country. So we are 100% conscious that we are in Canada and 90% of our friends are Canadians. It's not because we decided to do that in a way because of whatever was available or nearby, you know. And most of the time that we played we played for the English in the town.
PLH: And they enjoy your music.
AP: Yes, yes that is the important thing.
PLH: In Cuba you would just blend in with all the other musicians, but in Canada you are special and exotic.
AP: That's right.
PLH: Will you stick with playing traditional Cuban music or will you branch out into other types of music now that you are residing in North America? I ask this question because there are two things happening in world music. One, bands create a blend of music from all over the world and two, bands play only traditional music from their respective country.
AP: I really believe that when you are honest in your music ways you have a bigger chance at success. And if you are Cuban show off or to bring your culture. If you are in Africa you try to play your tradition, you know. Only that way can we be our best. We are not trying to look like Croatians or Americans or whatever. You have to be what you are no matter what. And that's it.
This interview took place at WOMAD USA, July 2001.
Author:
World Music Central News Department
World music news from the editors at World Music Central