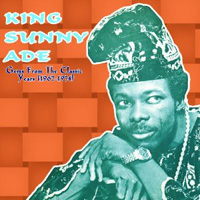 King Sunny Ade – Gems from the Classic Years 1967-1974 (Shanachie SH66041, 2007)
Sometime in the summer of 1983 I walked into Main Street Records in the college town of Brockport, NY and bought my very first African music album. The vinyl disc I purchased was Synchro System by Nigeria's King Sunny Ade and my life was irrevocably altered after one listen. Here was music that had so many rhythmic components, so much going on structurally, yet it seemed lighter than air. The style, I quickly came to learn, was juju, a blend of multi-percussion, guitars, voices and modern production that opened my rock-raised ears to a world I've been exploring ever since.
Actually, by the early '80s, when the Island Records label was busy trying to turn Ade into the next third world superstar following the death of Bob Marley, he'd already been making music for more than a decade and juju had been evolving for the better part of the 20th century. Combining the percussion-and-voice interplay of Yoruba-rooted apala music with the prominent guitars heard in such West African styles as highlife, juju typically had a feel simultaneously laid back and propulsive that still characterizes it today.
The lyrics were celebratory, topical, spiritual or parabolic, and a good juju band could sustain their (and their audience's) energy through live appearances that might last literally all night. Though the accordion was a key instrument in juju early on (particularly in the music of the late great I. K. Dairo), Sunny Ade's strictly guitar-led variety soon gained popularity and led to good-natured rivalries between himself, Dairo and others like Ebenezer Obey as they competed for a share of the juju audience.
But that's probably more background information than you need to enjoy this crackling good reissue, which is 70-plus minutes of classic scorchers by King Sunny and his band (originally called the Green Spots before changing their name to the African Beats). Minus the pedal steel and keyboard sounds added in more recent years, the four lengthy medleys and two shorter songs here are loaded with raw, fiery juju finesse.
A battery of percussion, including the all-important talking drums, unrelentingly drives the guitars, bass and voices up top. Tasty, twangy guitar solos courtesy of the King himself steer the songs through subtle twists and turns, the nuances of which are surprisingly clear considering some of this stuff was recorded 40 years ago.
If you're already a fan of African music, King Sunny Ade's juju sounds are likely not new to you. But if your first encounter was a fraction as profound as mine or if you're keen on hearing some of the most beautifully intricate music to ever come out of Africa or anywhere else, purchase this precious stone of a CD. On its own or as a companion piece to 2003's The Best of the Classic Years (also on Shanachie), it's a must.
Buy the CD:
Author:
Tom Orr
Tom Orr is a California-based writer whose talent and mental stability are of an equally questionable nature. His hobbies include ignoring trends, striking dramatic poses in front of his ever-tolerant wife and watching helplessly as his kids surpass him in all desirable traits.