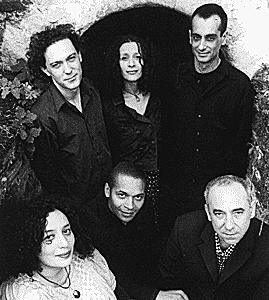 A bit of nostalgia for Francophones and Francophiles….
Last January (2001) when French musical collective Lo'Jo organized a world music festival in the North African desert they had no idea that their PA system would be hijacked by armed outlaws. They also had no idea that a nomadic (Tuareg) warrior would strike a deal with the desert outlaws allowing the PA to be safely returned to Lo'Jo who then went on to produce a successful music festival. This may sound like a climatic moment from a feature film, but is a true story that happened to one of the most fascinating contemporary world music groups.
So who is Lo'Jo? Lo'Jo is a multicultural musical collective from Angers, France that includes founder and multi-instrumentalist player Denis Pèan, Berber sisters and vocalists Nadia and Yamini Nid El Mourid, violinist Richard Bourreau, bassist Nicolas Meslien, drummer Mathieu Rousseau and an array of guest musicians. In fact, since the band's inception in 1982, 300 musicians have passed through the group. Some of those performers came in the guise of circus performers, street acrobats, and theatrical performers and at one point, Lo'Jo took part in a film collective.
And the group's music proves to be as eclectic as the band's biography while blending dub with music from North Africa, France and the Caribbean as well as, mixing the African kora and talking drum with a harmonium with traditional Western instruments. The group's infectious rhythms, Romany violin and lush vocals have certainly warmed the hearts of festival attendees who were fortunate to see Lo'Jo play live. And the eclectic group's (1999 import) release, Boheme de Cristal has finally been released in the US.
I discovered Lo'Jo in 1998 when they performed on a small stage at WOMAD USA. I instantly fell in love with the group, but was disappointed to learn that they had no recordings available at that time in the US. I recently saw Lo'Jo perform for a second time at WOMAD USA in Redmond, Washington and have since acquired a copy of Boheme de Cristal. However, despite all that and my short conversation with Denis Pèan, the group still remains an enigma and perhaps one that doesn't need to be solved.
Patty-Lynne Herlevi: I am interested in Lo'Jo's history. Your group has been around for 18 years and 300 musicians have passed through the group during that time. How does that work?
Denis Pèan: Since the beginning of the band we have invited many guest musicians to play with us. And we shared music with a circus company, with movie makers, dancers and we had many experiences with other bands as we shared music on stage. For example, last January when we were in the desert we met Tuareg musicians and we played music with those musicians.
PLH: Yeah, I heard about that your sound system was stolen and recovered by a nomadic warrior. That sounds like a plot in a movie. And speaking of movies, I read that Lo'Jo once had a film collective. Did you make feature films?
DP: Yes, we did, but we are a band of musicians first. The band is a collective organization. We try to share ideas and our views about life and music. Everybody in the band composes music and we share ideas about which ways to organize a track.
PLH: What was the premise when you started the group Lo'Jo and what's the premise now?
DP: We started out as a band of friends and we didn't agree much with mainstream music in France. So we decided, well, not really decided because it was an instinctive way of doing something different and to change the reality of music in France… We experimented musically and we were into music of the moment. We were teenagers and a little bit wild. And we tried step by step to organize this little band.
PLH: Did the diverse cultural influences in Lo'Jo's sound come as a direct product of the region, Angers where you grew up and still reside? I'm talking about the African, Middle Eastern and Caribbean influences.
DP: Yes, in France in general, but in Angers there are many musicians and bands. And of course France is influenced by the music of Africa because France is close to Africa. We are also close to Eastern Europe and are influenced by gypsies and Slavs. We are influenced by dub coming from London and all kinds of music in fact. We were open-minded to all music. And some of us studied classical music at the conservatory at Angers. We also picked up musical influences on our travels, especially in Africa. Ten years ago we were in a theatre company that traveled across Eastern Europe.
PLH: I find a unique historical aspect to Lo'Jo since the group comes from an imperialist country that once ruled countries in Africa, the Caribbean and yet, you don't push French culture on music of those other countries but instead celebrate the music of those countries.
DP: Yes. We never want to compete with all of that music. For instance, our violin player plays a kora which is an instrument coming out of West Africa, but he doesn't play it like an African. He plays it in his own way. We only keep our minds open in the way we think about music, but not really the style. We want to have our own style and depend on our own abilities.
PLH: So you're taking musical forms from other places and creating your own music from that?

DP: Yes. One thing that is really important to the band that happens to be French is poetry and language. We have a huge culture built around poetry and words. We always work with words in the same way that we work with music. We mix languages. We try to find a mix of colors and play with the rhythm of words.
PLH: Could a band such as Lo'Jo happened in Paris or are you a product of Angers?
DP: Yes, it's very important for us to stay in the place where we were born because this place needs musicians and we need to stay in the countryside to be creative. Parisians thinks a lot about business and we don't have that sort of relationship with our music.
PLH: Yes and what I like about Lo'Jo is that you're a collective, you're egalitarian and you share your duties and also your rewards.
DP: First it was a way to share our values because we didn't have much success at the beginning because it was difficult to do something different than the mainstream. But years later we have are respected and it's a good way to stay in this town.
PLH: Have you ever been asked to perform music for a feature film soundtrack?
DP: Yes, we did a soundtrack for a film out of Anger, it was a European festival film. And we had experience filming a band coming out of Anger called Zul. We filmed their performance on 16mm film.
PLH: The reason why I ask about film work is because I'd like to see world cinema and world music speaking the same language. At the moment these two groups are separate and speak little dialogue with one another. What other musical styles would you like to add to your repertoire?
DP: I can not define the music of Lo'Jo. It's something special that comes from our imagination. Most of the band members never learned music at school and we learned how to play music through feelings.
PLH: What are your plans for the future? Will you be touring or recording?
DP: We will go back home first because a commune has invited us to stay at a house for traveling musicians. And Lo'Jo has been asked to be the director of this house. We will have rooms for musicians from Africa and everywhere in the world and we will have a place for the manager of Lo'Jo and places for members of the band to sleep. And we will organize this new house in the countryside.
PLH: So will all of the visiting musicians perform together?
DP: Yes, sometimes it will be just an invitation to sleep or to have a good time and for musicians to have a rest.
PLH: It sounds like a retreat. And it's a place for musicians to come and compose?
DP: Yes, yes, it's a good house to be creative. It's better than in a little dark room or an apartment. And we have a new CD that will be released in September. I think our last CD was released in the States last June.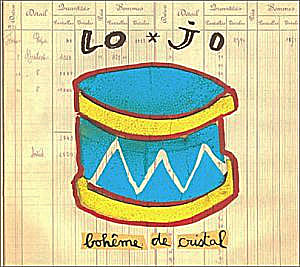 PLH: What's the translation of the title of your CD Boheme de Cristal?
DP: You know how fortunetellers use the crystal ball to speak about the future? And the word for travel for us is crystal. You conjure a vision of reality in the crystal of the road. It's a metaphoric way to say you can get many experiences on the road and you can give this experience in music. The word boheme means artist or a man who's a friend of mine who I communicate artistic things.
PLH: Does boheme mean gypsy too?
DP: Yes.
PLH: Is there anything else you would like to add about Lo'Jo?

DP: One thing that is important is that we organized a music festival in the African desert last year. We met in Africa in Bamako, the capitol of Mali. We first met Le Gangbè Brass Band in Benin and then we met Tuareg people (along with the Tuareg legendary guitarist Tinariwen) and other people from the Sahara. And we have experienced good communication with these men and women because they fed us a huge feast. And their gestures and words are harmonious. Because they are also interested in poetry so we decided to invite the Tuaregs to France. And after that they invited Lo'Jo to organize a festival in the desert. We also invited Eastern Europeans to play at the festival. And it was a huge experience for Lo'Jo to meet up with this nomadic way of life.
PLH: Now that would have made a wonderful documentary.
This interview by Patty-Lynne Herlevi took place at WOMAD USA (Redmond, Washington) , July 2001. It was originally published in Cranky Crow Whole Music.
Author:
PatriciaHerlevi
Patricia Herlevi is a former music journalist turned music researcher. She is especially interested in raising music consciousness. She is looking for an agent and publisher for her book Whole Music (Soul Food for the Mind Body Spirit). She founded and hosts the blog
The Whole Music Experience and has contributed to World Music Central since 2003.