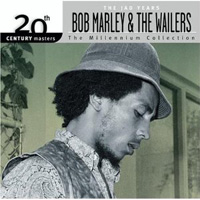 Bob Marley & The Wailers
20th Century Masters: The Millennium Collection: The Best of Bob Marley & The Wailers (Universal, 2007)
Of late Universal Music has been trolling through its massive catalog, creating the 20th Century Masters series for greats Jimmy Cliff, Angelique Kidjo and Peter Tosh, as well as many others. The Best of Bob Marley & The Wailers is an intriguing listen into the pre-Island Records reggae group.
Culling treasures from early 1967-1972 Kingston recordings, it's evident from these studio sessions that Bob Marley & The Wailers were the real goods and bent for big time. The CD features Bunny Livingston and Peter Tosh before they quit the band and includes material from the band's Wail'n Soul'm and Tuff Gong labels.
Opening with a simple studio version of "Stir It Up," it's clear that from the very start that Bob Marley was the soul source for reggae. Following close on "Stir It Up's" heels is "Soul Rebel" and "Small Axe."
Early 1970s recordings of "Trenchtown Rock," "Lively Up Yourself," and "Concrete Jungle" might not be what some would consider as Marley greats or reach the heights of eventual fame of the Island recordings, but here each possess a spare, club scene feel that goes to the heart of the group's music. I think the word I'm looking for here is unpretentious.
With the likes of Glen Adams, Felix "Deadly Headly" Bennett and Tommy McCook on guitar, Gladstone Anderson and Aston Barrett on keyboards, Carlton "Carlie" Barrett on bass, Bunny Wailer on drums, Alva Lewis on percussion, Peter Tosh on tenor saxophone and Uziah "Sticky" Thompson on keyboards and guitar the CD swings while Bob's vocals are as sweet as a Jamaican breeze.
I'm inclined to point out that The Best of Bob Marley & The Wailers is really a collector's CD. With only ten tracks and none of the classic tracks that really put the band on the international map, I'm not all that sure it should be dubbed "the best of…" Calling it the best we had licenses to or the best we could dig up would hardly be the selling point Universal marketers would want to advertise. Having said that, I'd like to say that this is an excellent CD for
Marley collectors and devotees who want to capture the early evolution of the group.
Universal also gets kudos for its renewable, recyclable and biodegradable packaging of the CD.
Buy The Best of Bob Marley & The Wailers.
Author:
TJ Nelson
TJ Nelson is a regular CD reviewer and editor at World Music Central. She is also a fiction writer. Check out her latest book, Chasing Athena's Shadow.
Set in Pineboro, North Carolina, Chasing Athena's Shadow follows the adventures of Grace, an adult literacy teacher, as she seeks to solve a long forgotten family mystery. Her charmingly dysfunctional family is of little help in her quest. Along with her best friends, an attractive Mexican teacher and an amiable gay chef, Grace must find the one fading memory that holds the key to why Grace's great-grandmother, Athena, shot her husband on the courthouse steps in 1931.
Traversing the line between the Old South and New South, Grace will have to dig into the past to uncover Athena's true crime.