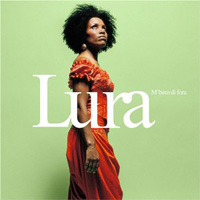 Lura
M'Bem Di Fora (Times Square Records/Four Quarters FQT-CD-1801, 2007)
Her original aspiration was to be a dancer, so it comes naturally that Lura's music frequently has a sprightly tinge that makes you want to move. Along with Maria de Barros and Sara Tavares, she's part of an emerging wave of young women bringing the laid-back but feisty rhythms of Cape Verde to the world.
Like Tavares, has a dual Cape Verdean and Portuguese sensibility in her sound that reflects the melodic influence of colonizer on former colony. Rhythmically, though, it's the Cape Verdean islands' close proximity to the west coast of Africa and location a straight shot across the Atlantic from Brazil that matter most.
The translated title of her new album M'Bem Di Fora as "I've Come From Far Away" in small print on the back cover seems apt. Lura's singing has a searching, softly imploring air as it graces the mainly acoustic grooves here.
"Bida Mariadu" opens the disc in perfect mood-setting style, a trace of morna sadness in the vocals and loping arrangement before the spell is broken via a galloping percussion beat and tart violin arriving on the scene. There are further low-key moments on what is mainly an upbeat disc, and the accompanying guitars, cavaquinho, bass, drums, percussion and accordion (with occasional addition of sax, harmonica and the aforementioned violin) provide proper drive or moody coloring.
Particularly nice are the title track (a duet with Zeca di Nha Reinalda) with its rather startling electric riffing, the closing "Fitico di Funana" (name-checking a popular dance rhythm) and "As-Agua," which yearns for the coming of the rainy season. The journey from far away that Lura took to bring us these sweet sounds was well worth it.
Buy M'Bem Di Fora.
Author:
Tom Orr
Tom Orr is a California-based writer whose talent and mental stability are of an equally questionable nature. His hobbies include ignoring trends, striking dramatic poses in front of his ever-tolerant wife and watching helplessly as his kids surpass him in all desirable traits.