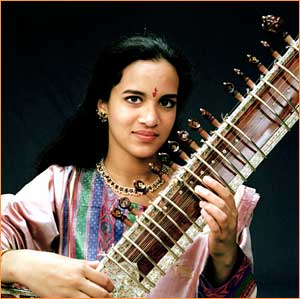 Dripping in luxurious saris and decadent jewelry, Anoushka Shankar gracefully maintains her throne as musical royalty in India. This London born, Indian raised and California based artist is a master sitar player, composer, and conductor who is used to leading over 40 musicians at a time. Grammy nominated Anoushka just happens to be the daughter of Ravi Shankar, world renowned musical virtuoso.
Her four outstanding albums Anoushka (Angel/EMI Classics), Anourag (2000), Live At Carnegie Hall (2001) and Rise (2004) have all been well received by international audiences for their complex fusion based rhythms that seamlessly incorporate western themes with eastern flavor.
R.S. As Women of the Year in India in 2003 and as one of 20 Asian Heroes in the 2004 TIME magazine, how do you accept your position as a role model?
A.S. Being considered a role model is definitely an honor and something I try to use in ways that make a difference to issues that matter to me. In India, I work extensively with PETA [People for the Ethical Treatment of Animals] and was recently chosen as the United Nations World Food Program's first Indian ambassador. I try to be aware of the fact that things I do and say are heard by the youth in India, but beyond that it's not as if I think if myself as a role model or let that affect the way I go forward in my life.
R.S. You are well known for your fusion of western rhythms with traditional Indian beats- why have you chosen to work with this combination? What do you hope Western listeners take away from your music?
A.S. Saying one fuses Indian rhythms with Westerns beats simply implies a percussive experimentation, and what I do is much more than that. I am primarily a melody-driven musician though I love and focus on rhythm a lot. Classical Indian music has been my focus and the focus of my records and tours since I was thirteen years old, but making Rise was a turning point as it was the first time I released a record with other elements. Since then I've toured extensively to promote Rise, and to represent the album my band has also evolved and has instruments ranging from sitar and tabla to piano and bass guitar.
I don't know if I can answer specifically what I want Western listeners to take from my music; I hope with all my listeners, that I can provide a balance of exciting entertainment with a soulful, meaningful experience. If, in the bargain, I introduce new listeners to parts of Indian music, than it's even better!
R.S. You are descendant of musical royalty- What role has music played in your years growing up, and now as a solo star?
A.S. Music has obviously played a huge role in my life. Growing up mainly in the West it was not only my favorite art form, both to enjoy and to participate in, but also quickly became my strongest link to India and its culture. Now music is my greatest joy and expression, both on a personal level and as a means to share my joy and vision with other people who connect to it and hopefully, derive something from it.
R.S. Is it your first time performing in Miami? If so, what do you look forward to and how do you hope to be received by Miami audiences?
A.S. I've played in Miami with my father before, and extensively throughout Florida both with him and as a solo artist. I'm excited to come there as part of the Rise tour and present my crossover compositions. Miami has a very forward-thinking arts culture so I hope for the music to be well-received, as it combines very ancient classical Indian principles with touches of flamenco and jazz, but also more edgy and ambient electronic influences. Also, my five-year-old godson and his parents live in Miami so besides being happy about returning to your beautiful city, I'm also looking forward to seeing him again!
Anoushka Shankar will perform on Saturday March 24, 2007 at the Carnival Center for the Performing Arts, 1300 Biscayne Blvd, Downtown Miami. Admission is $25-55. For tickets please call 305-949-6722.
Article by Rayme Samuels
baobab tree media