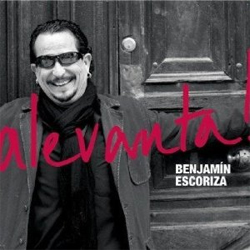 Alevanta! is the debut solo album of Granada-born vocalist and lyricist Benjamín Escoriza, one of the three core members of the famed Madrid-based Spanish band Radio Tarifa, the group known for its blend of traditional North African music with flamenco, Latin rhythms and a pop sensibility. The CD, released in Spain in 2006 with different artwork, will be available in North America through UK company Riverboat Records/World Music Network.
Escoriza, who formed Radio Tarifa with Vincent Molino in the early 1990s, brings a contemporary cool to his disciplined and studied pursuit of the great flamenco art forms and his distinct, eclectic approach continues to thrive throughout this red-hot, flamenco-focused release.
Born in Granada, Benjamín Escoriza moved to Madrid in the mid-1980s. It was here that he first met Fain Dueñas and Vincent Molino, their shared interests sparking a rapport which eventually led to the founding of the group Radio Tarifa at the beginning of the 1990s. The group initially inspired a cult following in Spain but soon forged a successful international career around Europe, the US, and notably, Morocco, whilst influencing a vast spectrum of Spanish musical tastes.
Alevanta! is Benjamín Escoriza's first solo release. He launches it under his own name and shifts from being a contributor to writer of all the material. Still, the Radio Tarifa legacy lives happily on – in fact almost all the old colleagues contribute, including the producer who also worked on Tarifa's first album Rumba Argelina. The same traces of medieval, Moorish, Sephardic, Andalusia folk and flamenco music are still present, but the approach and emphasis are altered slightly.
In this flamenco-focused record Benjamín leaves his Granada roots exposed. The songwriting process took place in stages. After writing the lyrics, Benjamín tried them out over his own guitar or small electric keyboard, searching for melodies and chords and jotting them down on a 4- track recorder. He then worked on the roughs with his various musical collaborators, chiefly Vincent Molino, but also Jaime Muela, Fernando Mejías and producer Juan Alberto Arteche. In fact, much of the record was put together in these guys' homes. By working through the ideas and arrangements, the songs gradually took shape and the choice of instruments was selected to reflect the mood and meaning of each. Alevanta! is the result of this process, the title inspired by a Spanish play on words commanding the listener to rise up!
Buy Alevanta!
Author:
World Music Central News Department
World music news from the editors at World Music Central