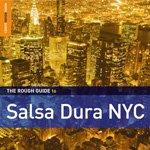 Various Artists
The Rough Guide to Salsa Dura NYC (World Music Network RGNET1177CD, 2007)
Not a lot of background information is necessary when reviewing a salsa album, since nearly everybody knows what salsa music sounds like. What distinguishes this CD is that it's filled with what those who like their salsa especially hot call salsa dura, or hard salsa. This is music not very far removed from the Afro-Latin jazz that spawned it. What it ain't is watered-down, romanticized, pop-squishy sounds that have often passed for salsa in recent years as Latin music in general has gone more mainstream.
It was in the Puerto Rican and Cuban communities of New York City that salsa was born in the first place, so this compilation doesn't have to dig very far into that metropolis to find a resurgence of it.
We begin with Eddie Palmieri, a veteran pianist and bandleader whose "Lo Que Traigo es Sabroso II" exemplifies the salsa dura sound perfectly: crackling congas and timbales, a steady swirl of piano, layered horns, subtle but solid bass line, celebratory coros and some fabulous flute that jumps aboard after a rumba-like break about two minutes in. Quite excellent, and that's only the first track.
Keep your literal or figurative dancing shoes on and be treated to Los Soneros Del Barrios' update of the slavery-decrying "Babaila," master trombonist Jimmy Bosch seamlessly tossing some strings-and-flute charanga into "El Embajador" and Las Estrellas Cobo vocalist Yousie Barbara bringing a feminine freshness to "Don Ramón" before stepping aside to let a tasty vibraphone provide the call to the male voices' response.
If you're still not convinced how easy hard can go down, stick around for the sincere campiness of the closing "I Get a Kick Out of You" (which even gets away with substituting sugar cane for cocaine in the lyrics).
A sizzling collection that reveals new vigor with each listening, Salsa Dura NYC also makes a good companion piece to the same label's The Rough Guide to Salsa Dance (Second Edition) from 2005.
Buy Salsa Dura NYC.
Author:
Tom Orr
Tom Orr is a California-based writer whose talent and mental stability are of an equally questionable nature. His hobbies include ignoring trends, striking dramatic poses in front of his ever-tolerant wife and watching helplessly as his kids surpass him in all desirable traits.