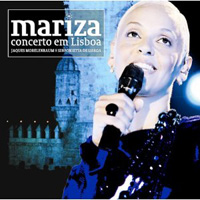 Mariza
Concerto Em Lisboa (World Connection/Times Square Records, TSQCD9060, 2007)
Mozambique-born and Portugal-raised, Mariza has become arguably the most popular fado singer on the planet. Fado, the sparsely acoustic, unguardedly emotional music that's been called the Portuguese equivalent of blues, has had peaks and valleys of popularity since its 19th-century beginnings. It's presently riding high in its native land and on the global scene.
his live album builds upon and enhances the sweet sadness of the style, which is usually accompanied only by a pair of acoustic guitars (one specifically Portuguese in design and sound) and a likewise unplugged bass. Here, Mariza is backed by those core elements plus a large and lavish string section courtesy of the Sinfonietta de Lisboa under the guidance of conductor/cellist Jaques Morelenbaum.
As usual, Mariza's golden voice (just as gripping in a live setting as on studio recordings) soars with anguished beauty, often delicate as mist while still seeming to come from some inner strength that's rock solid. The songs, naturally, are mostly slow and reflective, the added orchestral strings deepening fado's characteristic melancholy with a bigger, bolder feel befitting the way this disc transforms the music from its intimate roots to concert hall expansiveness. Yet the intimacy remains.
Some passages are so hushed and low-key that at times the crowd doesn't seem to know when to applaud. And on the more uptempo numbers, such as "Recusa" and "Feira de Castro" (which features, of all things, a percussion solo- almost unheard of in fado), the engagement between performer and audience is unbroken.
The whole thing caps off with a splendidly delivered rendition of "O Gente da Minha Terra," popularized by fado legend Amalia Rodrigues. This disc a must for established fado fans and those just beginning to explore the wonder of it.
Once you've returned from getting lost in the music on the CD, slip the accompanying DVD, Mariza and the Story of Fado, into your player. It's a consistently interesting and insightful documentary on the history and current state of fado, lovingly directed by Simon Broughton, editor of the U.K. world music magazine Songlines.
Even if you already know why fado tugs the heartstrings so profoundly, you'll find out how and why, for those who sing it and those who've come to know the sort of life that inspired it, it means so much more.
Buy Concerto Em Lisboa.
Author:
Tom Orr
Tom Orr is a California-based writer whose talent and mental stability are of an equally questionable nature. His hobbies include ignoring trends, striking dramatic poses in front of his ever-tolerant wife and watching helplessly as his kids surpass him in all desirable traits.