The Upsetter Selection: A Lee Perry Jukebox (Trojan Records, 2007)
Jonny Greenwood Is the Controller (Trojan Records 06076-80565-2, 2007)
For four decades Trojan Records has been releasing reggae music. Recent years have seen the label repackaging a lot of their early stuff and giving it increased availability on CD. Their reissues range from artist anthologies to box sets, and they've trotted out some goodies again with these two releases.
Reggae's resident insane genius, Lee "Scratch" Perry, is the subject of The Upsetter Selection: A Lee Perry Jukebox, the great majority of which is culled from his prolific "70s period. It contains many of his own stream-of-consciousness-voiced tracks and many more crucial songs he produced for others, all with that brilliantly bizarre combination of low-fi sonic spookiness and ragtag sophistication for which he's known.
Perry's production style could bring out the best in any singer, player, dub passage, sound effect or musical idea in general, not with the most cutting edge recording equipment but with an uncanny ear for what works.
Over the course of 45 tracks on 2 CDs, this compilation serves up starkly soulful early material from the Wailers, conscious deejay testifying by the likes of U Roy and Prince Jazzbo, dub and instrumental tightness courtesy of Perry's studio house band the Upsetters, Rasta-themed cuts by Max Romeo, Junior Delgado and Junior Byles, the Afro-reggae mashup of Congolese artists Seke Molenga and Kalo Kawongolo and so much more.
Along the way there's one sonic touch after another- like the chilling tinge to the vocals on the Silvertones' "Rejoice Jah Jah Children" -that could only have come from Lee Perry. Perry himself gets the final word(s) on the second disc with the aptly-titled "I Am A Madman" (no argument from me) and the surprisingly recent "Jamaican E.T.," on which Perry revisits his recurring knack for multi-tracking his own voice in dual deadpan and expressive tones. While by no means a complete picture of everything he's done, these two discs are a murderously good cross section of some of Perry's finest moments.
Apart from being aware that one of their albums was recently done over reggae style by the Easy Star All Stars, I pretty much know nothing about the English rock band Radiohead. But their lead guitarist Jonny Greenwood is reportedly a devoted reggae fan.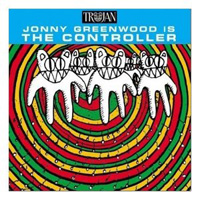 On Jonny Greenwood Is the Controller, 17 simmering vintage reggae tracks from the Trojan catalog comprise Greenwood's favorite Jamaican riddim pickings. He's not pretentious about being all-inclusive; this is simply a marvelous collection of roots, dub, lover's rock and deejay styles.
The prime of many enduring reggae artists can be heard, including Gregory Isaacs' seductive purr on "Never Be Ungrateful," the Heptones sounding slightly menacing with "Cool Rasta," Desmond Dekker wrapping his trademark high tones around "Beautiful and Dangerous" and Marcia Griffiths giving Curtis Mayfield's "Gypsy Man" added mystery.
A smattering of obscurities like the Jahlights' "Right Road To Dubland" and a lack of overly familiar songs from the bigger names keep this from being another run-of-the-mill reggae compilation.
Greenwood's faves may not match up perfectly with your own, but he sure can pick 'em.
Buy The Upsetter Selection: A Lee Perry Jukebox and Jonny Greenwood Is the Controller.
Author:
Tom Orr
Tom Orr is a California-based writer whose talent and mental stability are of an equally questionable nature. His hobbies include ignoring trends, striking dramatic poses in front of his ever-tolerant wife and watching helplessly as his kids surpass him in all desirable traits.