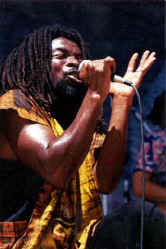 Los Angeles, CA – Africa Live!, in association with UNICEF, announced the 7th annual "Rocky Dawuni's Independence Splash" which will take place at La Pleasure Beach in Accra, Ghana on Tuesday March 6, 2007 in celebration of the 50th Anniversary of the Independence of Ghana.
"Rocky Dawuni's Indepenence Splash" is the anniversary's official Ghanaian Government-sanctioned concert for March 6, 2007 and performing live will be Ghana's international superstar Rocky Dawuni, 2006 MOBO Award winner Batman Samini, and griot sensation King Ayisoba, as well as very special guests. "Independence Splash" will be hosted by former Miss Ghana UK Makeba Boateng with legendary deejay Black Santino.
Ghana was the first black African country to gain independence from colonial rule in 1957 under the guidance of Ghana's first president, Dr. Kwame Nkrumah. Rocky Dawuni founded his namesake "Independence Splash" event in 2001 to celebrate his homeland and, since its inception, the concert has attracted thousands of fans annually and has been broadcast to millions. This year's celebration will be a convergence of many Ghanaians and Africans from home and abroad as well as dignitaries from around the world.
Dawuni, is one of West Africa's most popular musicians whose live performances have often been called legendary and whose popularity spans the globe. He is currently blazing new paths with his CD Book of Changes, a progressive fusion of Reggae, Afro Beat, traditional African sounds, and Hip Hop neo-griotism which has been dubbed "infectious" and "a classic" by tastemakers. Rocky was invited to be the musical personality for the 2005 Reebok Humanitarian Awards where he was joined in song by Peter Gabriel and he also shared the mic with Stevie Wonder at a sold-out concert appearance at his Los Angeles club, Afro Funke'.
Rocky continues to raise his international profile with a recent distinctive appearance on Showtime's smash hit series "Weeds" performing his "Jammin Nation" in episode two of the Emmy-winning show's second season. "Jammin Nation" was also featured in another Showtime soon-to- be-classic "Dexter." No stranger to TV, two tracks from Book of Changes set the tone as NBC's "ER" traveled to Africa and the medical drama also highlighted Rocky's rendition of "Knockin' on Heaven's Door" to massive response. Dawuni was recently invited to be the musical guest for an event honoring Jeffrey Sachs, renowned poverty expert and head of the UN Millennium Project. The event was hosted by Quincy Jones and Roger Waters.
Africa Live!, is a non-profit organization whose mission is to preserve, restore, and reinvigorate the Ghanaian music scene, creating public and industry awareness for its rich history and value, and commercial opportunities for artists and the community. Native son and musician Rocky Dawuni recognized the need to safeguard Ghana's incredible music legacy. Through Africa Live! Dawuni plans to promote music education and appreciation in schools, provide artists with access to instruments, venues and professional production assistance, and further appreciation and demand for traditional West African music throughout the world.
Africa Live! and UNICEF have joined forces to promote UNICEF'S theme of "Water & Sanitation" for the 2007 incarnation of "Independence Splash." Poor sanitation and hygiene practices and drinking unsafe water claim children's lives needlessly, and affect the health and economic welfare of families and entire communities. As Ghana celebrates its 50th anniversary and focuses on the drive for "A Clean Ghana", this is an important time for all world citizens to focus on ensuring that they drink clean and safe water.
More information at: www.myspace.com/rockydawunimusic and www.ghana50.gov.gh
Author:
World Music Central News Department
World music news from the editors at World Music Central