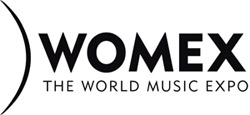 Berlin, Germany – WOMEX has announced the names of the 7 Samurai, the seven world music professionals that are chosen annually to select the artist showcases. Showcasing at WOMEX is very coveted and highly competitive.
According to WOMEX organizers, the Samurai "represent a cross-section of people and regions and musical tastes. For maximum diversity, the Jury has complete independence in deciding  Showcase artists and Conferences."
The 7 Samurai are:
– Bill Bragin (USA)
– Rui da Cruz Mota (Portugal)
– Petr Doruzka (Czech Republic)
– Gaëlle Heurtebis (France)
– Herminia Martinez (Spain)
– Sigbjørn Nedland (Norway)
– Mario Pacheco (Spain)
Full biographies and photos can be found at womex.com.
In the meantime, with its partners at ICAS, Sevilla's cultural department, WOMEX is at work bringing the popular showcases to a new location right into the city center. The plan is being developed and still to be confirmed.
All information about how to propose a Showcase, Conference or Film is
available online now at www.womex.com/realwomex/how-to-propose.
Author:
World Music Central News Department
World music news from the editors at World Music Central