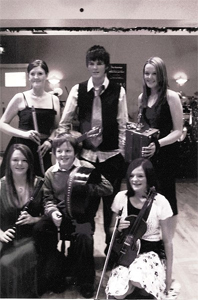 Glasgow, Scotland – Every year at Celtic Connections, the cream of new musical talent perform at Danny Kyle's Open Stage. A diverse panel of judges – from industry stalwarts to members of the general public – then have the unenviable task of picking just six winners from the eighty-two acts which performed at the festival.
The level of talent on show at the sixteen concerts, which were held in the Exhibition Hall of The Glasgow Royal Concert Hall, was extremely high. The six winners of the Danny Kyle Open Stage 2007 are:
The Rooneys – Mayobridge, Northern Ireland
Sheila Rooney vocals, whistle, bodhran
Linda Rooney whistle, flute
Stephen Rooney guitar, vocals, banjo
Sinéad Rooney vocals, whistle, accordion
Danielle Rooney fiddle
Eamon Rooney bodhran, concertina
The Rooneys comprise six brothers and sisters from Mayobridge, County Down. They have been playing together for seven years and have already released two independently produced albums, and toured Nova Scotia and Denmark.
T-N-T – Dunoon, Glasgow, Inchinnan and Helensburgh
Keith Bowes pipes
Ally Henderson pipes
Kyle Warren pipes
Renee Klemmensen guitar
Tano Martone drums
The New Tradition (T-N-T) describe themselves as a "boyband on pipes". They are all first year students at Royal Scottish Academy of Music and Drama (RSAMD) and recently won the Pipefactor competition, held at the National Piping Centre. Keith Bowes and Ally Henderson are both members of the ScottishPower Pipe Band, who played in the Celtic Connections torchlit procession.
Lazy Boy Chair – Orkney
Gavin Firth acoustic guitar
Fionn McArthur fiddle
Bob Gibbon accordion
Brian Cromarty banjo, vocals
Chas Milne bass guitar
Erik Laughton drums
Douglas Montgomery fiddle, mandolin
Robbie Thomson percussion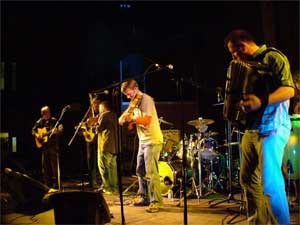 Lazy Boy Chair are an eight-piece band from Orkney, who describe their sound as 'stomp music from Orkney'. They formed especially to perform at the 2004 Orkney Folk Festival, which they went on to headline in 2006. Douglas and Brian also play in Saltfishforty.
Wingin' It! – Perth, Oban
Adam Bulley guitar, mandolin
Chas Mackenzie guitar
Wingin' It! are a guitar duo who perform a wide range of styles, from Django-style jazz to bluegrass to pop. They have performed in the Perth Concert Hall, Glasgow Barrowlands and SECC, and have played support slots for the likes of Dougie Maclean and Graeme Duffin. They hope to release their debut album early next year.
Ryan Young – Cardross
Ryan Young fiddle
Aged only 16, Ryan is a fiddler from Cardross. A pupil at the RSAMD Junior Academy, he was the winner of the Associated Board of Music Scholarship in 2005. He was a finalist in the BBC Radio 2 Young Folk Musician Competition at the Union Chapel in London, and has twice been named as the Lomond Young Tradition Musician at the Balloch Folk Festival.
Harriet Earis – Ceredigion, Wales
Harriet Earis Celtic harp
Harriet Earis (26) was classically trained on concert pedal harp, but now specializes in the Celtic harp. She was the 'Harper of All Britain' in 2000 and 2002. Harriet has been studying Irish, Scots Gaelic and Welsh and has a degree in Celtic Studies from Trinity College, Cambridge. She is a member of 'Siansa', a six-piece, London-based traditional Irish band that includes several All Ireland Champions.
Danny Kyle was the most passionate supporter of traditional music and constant campaigner for its revival in Scotland who passed away in 1998. The Open Stage has been an integral part of the festival for the last six years. Each night, new musical talent is given the chance to shine under the Celtic Connections spotlight and the six best acts win through to the coveted final night concert that is often attended by agents and promoters keen to spot bright new talent. Created by Danny's close friends, Gibb Todd and Liz Clark, it has been the launch pad for many now familiar names such as Dochas, Malinky and GiveWay. The Danny Kyle Open Stage is supported by The Evening Times.
Author:
World Music Central News Department
World music news from the editors at World Music Central