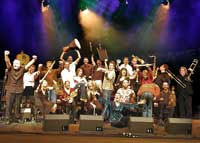 Glasgow, Scotland – Saturday at Celtic Connections 2007 the Country Music Association culminates its high-profile UK and Ireland tour in Glasgow, and an Americana legend brings his band over to Glasgow for a gig at the ABC.
Celtic Connections takes place in 12 venues all over Glasgow. The focal point of the festival is The Glasgow Royal Concert Hall, where performances take place in every available space, from workshops in the foyers to performances by world-class artists in the Main Auditorium. The City Halls and Old Fruitmarket, ABC, The Tron, The Piping Centre and Glasgow's newest live venue The Classic
Grand will all play host to Celtic Connections events this year over a period of nineteen days in January and February.
Program:
Mark Sheridan: Landscapes
Sat 3 February, 1:00pm
£12.50
The Glasgow Royal Concert Hall, Strathclyde Suite
Landscapes is a new work by Mark Sheridan for Celtic Camerata, an ensemble with some of the best new talent on the Celtic scene and some of Scotland's best young jazz musicians. They are all alumni of the University of Strathclyde and are well known faces at Celtic Connections.
Anna Massie, guitar; Ruaridh Campbell, fiddle; Rachel Hair, clarsach; Martin O'Neill, bodhran and percussion; Sarah Naylor, fiddle; Duncan Lyall, bass join accomplished saxophonists Konrad Wiszniewski, Bill Fleming and Tom Dalzell in portraying some of Scotland's diverse and inspirational terrain.
Each soloist will create a scene and a personal musical insight into a landscape that has inspired them – against a backdrop created by the sax trio – directed by Sheridan at the piano.
Danny Kyle's Open Stage hosted by Gibb Todd
Sat 3 February, 5:00pm
Free
The Glasgow Royal Concert Hall Exhibition Hall
The Wailin' Jennys with Bruce Molsky & Mary Ann Kennedy
Sat 3 February, 8:00pm
£12.50
The Glasgow Royal Concert Hall, Strathclyde Suite
Mick West Band
Sat 3 February, 8:00pm
£10
The National Piping Centre
Mick appears tonight with his regular hand-picked band, comprising Fraser Fifield, Frank McLaughlin and Steve Lawrence.
New Irish Tradition
Sat 3 February, 8:00pm
£12.50
St Andrew's in the Square
A cracking duo double bill featuring four sensational young musicians: Dublin-born fiddler Caoimhin Ó Raghallaigh and uilleann piper Mick O'Brien perform tracks from their classic album Kitty Lie Over (described by the Irish Echo as "the best traditional album of 2003") and Leitrim's Andy Morrow is accompanied by Tony O'Connell on concertina, their spell-binding duetting recently described as "playing of enduring quality, imagination and enjoyment".
Aberfeldy with Lior
Sat 3 February, 8:00pm
£14
The Garage
The Jerry Douglas Band with Support
Sat 3 February, 8:00pm
£15
ABC
New From Nashville – featuring Jace Everett and Julie Roberts
Sat 3 February, 8:00pm
£12.50
The Classic Grand
The Country Music Association will sponsor the third New from Nashville concert tour in the United Kingdom and Ireland, spotlighting Nashville recording artists Julie Roberts and Jace Everett. This Celtic Connections concert is the final one
of the tour, which has already visited Dublin and London.
Unusual Suspects with David Munnelly
Sat 3 February, 9:00pm
£15
Old Fruitmarket
The first Scottish act ever to be awarded a prestigious showcase slot at the WOMEX world music convention, the Unusual Suspects return to their Celtic Connections birthplace to raise the roof once more.
Tonight's line-up numbers more than 22 musicians and singers, representing the cream of Scotland's folk and jazz scenes, performing their unique grand-scale arrangements of traditional-based tunes and songs under the musical directorship
of Corrina Hewat and David Milligan.
Celtic Connections Ceilidh with The Scott Harvey Ceilidh Band
Sat 3 February, 10:30pm
£8
The Glasgow Royal Concert Hall Exhibition Hall
Celtic Connections Festival Club hosted by Gibb Todd
Sat 3 February, 10:30pm
£7.50
Holiday Inn – City West
Tickets can be purchased from the Box Office:
In person at: The Glasgow Royal Concert Hall
2 Sauchiehall Street
GLASGOW
G2 3NY
Online at: www.celticconnections.com
By phone on: 0141 353 8000
Author:
World Music Central News Department
World music news from the editors at World Music Central