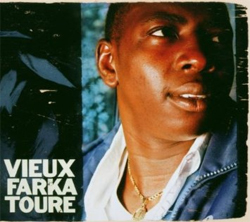 New York (NY), USA – Creative Commons, Modiba Productions and Global Beat Fusion have joined forces to present the Vieux Farka Touré/ "Ana" Remix Contest.
Vieux Farka Touréis a highly talented guitarist, singer, songwriter, and percussionist from Mali. Vieux is offering the audio source files from the song "Ana" online under a Creative Commons Attribution-NonCommercial license, so that producers worldwide can use the sounds in remixes and new compositions.
Vieux Farka Touré is the son of the late international superstar and two-time Grammy Award-winner Ali Farka Toure. An historic passing of the torch from father to son is represented by Vieux's debut. He has crafted a global minded style all his own with original compositions displaying flourishes of rock and reggae amidst Saharan Blues and traditional Malian melodies.Vieux Farka Touré is ushering in the next generation of Mali blues on his self-titled debut album, Vieux Farka Toure, which features Ali Farka himself on two remarkable pieces. These tracks are the only existing recordings of father and son playing together, and are amongst the final recorded material of Ali Farka before his death. The album also features two magnificent guest performances by the Grammy Award-winning kora master Toumani Diabate.
"Vieux Remixed" takes these beautiful acoustic recording and readies them for the dance floor. Working with the gorgeous strings, able voice and stellar percussion of the original, DJs such as Cheb i Sabbah, Karsh Kale, Nickodemus and Yossi Fine have created rich renditions ready for bass-heavy speakers. Ranging from hypnotic soundscapes to dance floor crushers, "Vieux Remixed" matches the diverse style of the young virtuoso himself. Rounding out the cast of remixers, the album also features Chris Annibell, Eccodek, DJ Center, DK & Cenzo and Fabian Alsultany.
Audio elements for remixing are available for download at http://ccmixter.org:80/vieux. Uploads of finished pieces can start on February 7th; contest ends March 7th.
Buy Vieux Farka Toure.
Author:
World Music Central News Department
World music news from the editors at World Music Central